UN High Commissioner, Navi Pillay, delivers a powerful speech on the urgent need to wipe out the "insidious stain" of caste discrimination and urges the UK not to tarnish their excellent record on human rights, by delaying implementation of UK anti-caste discrimination legislation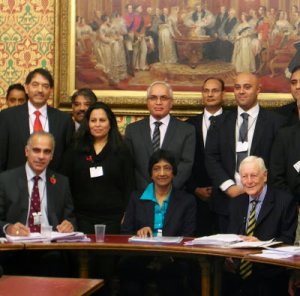 The UN High Commissioner for Human Rights, Navi Pillay, stated that caste discrimination spells, "a life of humiliation, exclusion and  poverty for about one-quarter of a billion women, men and children worldwide," and that it is "destructive of all we stand for," in a powerful speech at a House of Lords meeting of anti-caste discrimination networks.
Pillay urged the global community to push hard to raise more awareness of the "catastrophic human impact of caste-based discrimination, especially on women and the young ," and to "continue together to call for further progress and denounce caste-based discrimination, both at home and in multilateral and bilateral contexts on the international stage."
"You will have heard the recent calls for growing attention to caste-based discrimination at international level, ranging from UN Secretary-General's Guidance Note on Racial Discrimination and Minorities … to the resolution on caste-based discrimination adopted by the European Parliament just last month," Pillay said, and commented on the importance of the recent acknowledgement of caste discrimination as a specific source of inequality in the consultation on the post-2015 development agenda.
 "Caste-based ignorance, hatred, fear and suffering … also affects the lives of people in the United Kingdom, in other countries and in diaspora and migrant communities around the world today," Pillay said, adding that "strong, swift implementation" of the amended Equality Act 2010 was needed to protect the tens of thousands of people in the UK from low caste backgrounds.
Commending the UK on introducing legislation specifically addressing caste discrimination Pillay said, "The experience of my Office has been that even when non-discrimination legislation might cover, de jure, certain acts of caste-based discrimination, an explicit reference to such discrimination in legislation is needed."
However, she also warned that, "We must couple existing law with renewed political and social commitment to legal principles, and also methodically and efficiently engage the international and national working mechanisms to advance its implementation."   
According to an article in The Guardian, Pillay said, "If the UK hesitates in defining [caste] or in moving with this law, it's going to send signals to countries who are only now grappling with the issue that it is a matter too complex to legislate on," and that delays in bringing the new law into effect would "certainly not be helpful" to the UK's application to become a member of the UN human rights council in 2014.
According to participants The High Commissioner's comments also included statements on the importance of the adoption of the UN Principles and Guidelines on Work and Descent (UN term covering caste) by the UN Human Rights Council.
The event at the House of Lords was organised by the Anti-Caste Discrimination Alliance (ACDA) and took place on the 6 November 2013.
More information:
Read the full Speech by the High Commissioner for Human Rights, Navi Pillay
UN human rights envoy urges UK to implement caste discrimination laws The Guardian (6.11.13)
Dalit Solidarity Network – UK (DSN-UK)
UK: Fight for caste legislation goes on IDSN News (17.04.13)
UK Government announces its long awaited timetable to consultation DSN-UK News (29.07.13)
The UK Parliament outlaws Caste-Based Discrimination DSN-UK News (25.04.13)
The High Commissioner has repeatedly raised serious concerns about caste discrimination as a major human rights challenge at the global level, and came out with a statement on Dalit women earlier this year, statements on  manual scavenging, as well as a strong opinion piece on caste in 2011.
The UN has repeatedly raised concerns on caste discrimination in UN treaty bodies, Universal Periodic Reviews, and the Special Procedures.