Dalit activists spoke at the UN Forum on Minority Issues to highlight the issue of violence against Dalits in South Asia and the lack of access to justice for victims. They also pointed to ways forward in redressing and preventing these crimes.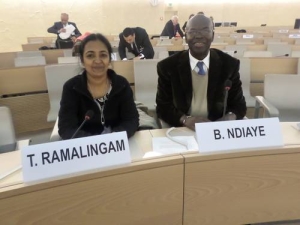 Under the theme of this years Forum, "Preventing and addressing violence and atrocity crimes targeted against minorities," the Office of the High Commissioner for Human Rights (OHCHR) invited Ms. Thilagam Ramalingam, the Programme Director of rights organisation EVIDENCE, to speak on violence and atrocity crimes against Dalits.
Ms. Ramalingam who has been involved in numerous studies on Dalit women stated,
"Irrespective of reports available at national and international level on the situation of Dalits; Interventions made before local and international human rights mechanisms to address the inhuman oppression; Observations, recommendations and remarks by international bodies and human rights institutions including the UN High Commissioner and UN Secretary General, the governments of caste affected countries continue to be in denial."
She pointed to ways forward to address this, including Governments acting to enable Dalit women to access justice, holding officials who fail to uphold their duties accountable, conducting fact finding missions to understand the root causes of caste-based violence and addressing them, and protecting Dalit women from retaliation when they stand up for their rights. She also stressed the need for countries to openly deal with this on an international arena, commenting that,
"India denied caste as a factor of gender inequality in the recently held Asian and Pacific Conference on Gender Equality and Women's Empowerment: Beijing +20. India's reluctance to acknowledge the reality, to accept its responsibility to uphold the legal obligations to address the discrimination and cruelty of the caste system, continues."
In terms of preventative measures Ms. Ramalingam said that the government should also address attitudes and prejudices that lead to violence and foster the culture of impunity. They should conduct public campaigns to promote equality and challenge discrimination, for example through schools and the media, encouraging dialogue and sensitisation of non-dalit communities and men. She also commented that disaggregated data on caste and gender must be collected, analysed and made publically available.
Mr. Pirbhu Lal Satyani of the Pakistan Dalit Solidarity Network also made a statement on Violence against Dalits and religious minorities in Pakistan,urging the United Nations to push the Government of Pakistan to respect the UN treaties ratified by Pakistan and translate into them into domestic legislation. He also urged the Minority Forum Secretariat to specifically address violence and atrocity crimes targeted against Dalits in the calls for particular focuses in approaches, policy and legislation in the final recommendations. 
A set of draft recommendations was prepared in advance of the Forum. IDSN submitted suggestions for recommendations and language on preventing and addressing violence and atrocity crimes against Dalits. The final recommendations will be out in March 2015.
Several other activists from caste-affected countries participated in the UN Forum on Minority Issues to highlight violence and atrocity crimes committed against Dalits and other caste-affected communities. 
A Statement on Violence against Dalit women was made by by Mr. Taisuke Komatsu, UN Advocacy Coordinator at the International Movement Against All Forms of Discrimination and Racism (IMADR). Mr. Sami Al-Naggar, representative of the All Youth Network for Community Development, made a Statement on Violence against the Al-Akhdam in Yemen and Mr. Dan Bahadur Biswokarma made a Statement on violence against Dalits in Nepal.
The UN Forum on Minority Issues was established by the Human Rights Council to provide a platform for promoting dialogue and to provide thematic contributions and expertise to the work of the Special Rapporteur on Minority Issues. 
More information:
Download Ms. Thilagam Ramalingam's speech on Caste-based gender violence – Dalit women's security and access to justice to the UN Forum on Minority Issues 2014
IDSN input to the draft recommendations – Violence and Atrocity crimes against Dalits
IDSN webpage on the Forum on Minority Issues
Read more about the Seventh Session of the UN Forum on Minority Issues (OHCHR website)