In an interview with US weekly The Nation, the UN High Commissioner for Human Rights says that caste systems can be removed "through an expression of international outrage".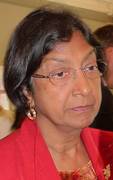 The UN High Commissioner for Human Rights, Navi Pillay, has urged all governments to endorse a new international human rights convention that applies directly to caste discrimination, one of the world's most serious human rights issues.
The framework to such a convention already exists in the draft UN principles and guidelines on caste discrimination, published earlier this year. In the interview, Ms. Pillay reiterated her view that the international community must act now to eliminate caste discrimination.
"This is the year 2009, and people have been talking about caste oppression for more than a hundred years," Pillay said. "It's time to move on this issue."
According to the article, the High Commissioner "is moving to the forefront of a campaign to free more than 250 million people from the indignities and horrors of caste discrimination." She is the first Commissioner who "has dared to openly take on this pernicious system."
Ms. Pillay said that many governments are "in denial over the harmful effects of the caste system" and mentioned India as a country where caste discrimination is unconstitutional, but widespread. In India alone, as many as 200 million people are victims of this form of human rights abuse, which also exists in other South Asian countries, diaspora communities, Japan, the Middle East and Africa.
"They have good laws in India, and they have media; they have well developed civil society organizations," she said. "So how come there is no implementation of these good laws, these good intentions?"
The High Commissioner also acknowledged that the UN has, until now, failed to "educate people and change mindsets to combat the taint of caste."
"How long is the cycle going to go on where those who can do something about it say; We can't, because it's the people, it's their tradition; we have to go slowly. Slavery and apartheid could be removed, so now [caste] can be removed through an international expression of outrage," Navi Pillay concluded.
The article "Putting Caste on Notice" was written by Barbara Crossette, the Nation's UN correspondent and a former New York Times Bureau Chief for South Asia. It was published in The Nation on 26 October 2009.
Click here to read the full interview in The Nation
Click here to read the High Commissioner's op-ed piece on caste discrimination
UN observations and recommendations on caste discrimination
The UN human rights bodies have on several occasions expressed concern about caste discrimination in a number of affected countries, including India, Nepal, Pakistan, Bangladesh, Yemen, Nigeria, Mauritania, Madagascar, the United Kingdom, Mali, Senegal, Japan, and Chad:
Click here for a comprehensive list of UN recommendations and observations on caste discrimination (according to countries and UN mechanisms)