An IDSN delegation with Dalit human rights defenders from Nepal, India and Bangladesh made its mark on the European Development Days 2019, with a stand in the Global Village and participation in key sessions. The event also saw the launch of IDSN's #NoCasteLeftBehind initiative with participants joining hands to fight caste discrimination. After the European Development Days, the delegation also met with key EU officials, including the new EU Special Representative for Human Rights, Eamon Gilmore.
The European Development Days 2019 brought together over eight thousand participants from all over the world to discuss the theme Addressing inequalities: Building a world which leaves no one behind. At the IDSN #NoCasteLeftBehind stand participants could meet and speak to Dalit human rights defenders and learn more about how to take action to fight caste discrimination and ensure that Dalits are not left behind in the Global Goals. At the stand participants could take a photo to join hands to end caste discrimination and take a quiz on caste and the Global Goals – the quiz is still open and can be taken here.
The stand was busy with people wanting to learn about caste and engage in dialogues with the Dalit human rights defenders. Nobel Peace Prize winner Kailash Satyarthi, also paid a visit to talk about issues of child labour and education in relation to caste and to have his photo taken to join hands to end caste discrimination. There was a lot of activity on IDSN's Facebook and Twitter – see some of the photos of participants at the IDSN stand at the end of this article.
The IDSN delegation also took part in several debates, labs and plenary sessions. Ashif Sheik of IDSN member organisation Jan Sahas was on the panel for the European External Action Service lab event on Non-discrimination. You can watch Ashif speaking about manual scavenging in India here and IDSN delegate from Bangladesh, Tamanna, making a statement at this event about access to water and sanitation for Dalits in Bangladesh here. Durga Sob from Nepal also spoke up about the situation of Dalit women in Nepal.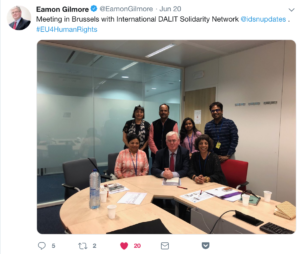 After the successful IDSN participation at the EDD19 there were several meetings with key EU officials. Among others, the delegation met with the new EU Special Representative for Human Rights, Eamon Gilmore, who was very engaged in how to support the struggle to end caste discrimination. He was briefed on the situation in caste-affected countries. Following the many meetings in Brussels the IDSN #NoCasteLeftBehind team travelled on to Geneva to take part in the 41st session of the UN Human Rights Council.
EDD19 Participants joining the #NoCasteLeftBehind campaign at the IDSN stand