The European Parliament are urging EU member states to address caste discrimination at the March session of the UN Human Rights Council (HRC25), currently underway. IDSN has issued recommendations for the HRC25 and Navi Pillay and Ban Ki-moon mention caste in their contributions to the council session.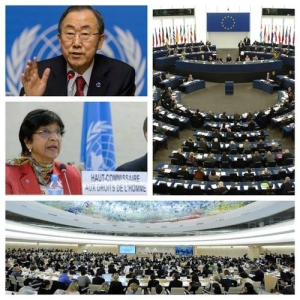 In the EP Resolution on the EU priorities for the 25th Session of the UN Human Rights Council the European Parliament has included a specific clause on caste discrimination. The resolution states that the European Parliament:
"Condemns caste-based discrimination; expresses deep concern about the continued widespread human rights violations on the basis of caste and the acts of violence, including sexual violence against women belonging to the communities concerned; welcomes the work of the OHCHR and UN Special Procedures mandate-holders on combating this form of discrimination; urges the EU Member States to promote the endorsement of the draft UN Principles and Guidelines for the Effective Elimination of Discrimination based on Work, and calls on the UNHRC to adopt this framework."
This is a strong call for EU member states to prioritise the issue of caste discrimination.
As the HRC25 session kicked off both the UN Secretary General, Ban Ki-moon and the UN High Commissioner for Human Rights, Navi Pillay, specifically mentioned caste in a report to the Council and a statement respectively. See the references they made in the compilation of caste references from HRC25.
IDSN have brought a delegation of Dalit leaders together for this session of the UN Human Rights Council – to highlight the unique challenges of caste discrimination that warrant being addressed specifically in this forum. Ahead of the session IDSN issued recommendations for member states.
IDSN offers specific recommendations related to particular points on the agenda and a general recommendation for member states:
"IDSN calls on all Member States in the Human Rights Council (HRC) to:
Adopt a resolution on discrimination based on work and descent, which welcomes the draft UN principles and guidelines for the effective elimination of discrimination based on work and descent. The framework is the outcome of a thematic study by the former UN Sub-Commission on the Promotion and Protection of Human Rights and was published by the HRC in 2009 (A/HRC/11/CRP.3). See: http://www.idsn.org/UNPG
Systematically use the recommendations on caste discrimination by UN human rights bodies. For a comprehensive overview, see: http://www.idsn.org/UNcompilation
Read IDSN's Appeal to Member States, Special Procedures and UN agencies (full version): http://www.idsn.org/UNappeal"
More Information
The High Commissioner has repeatedly raised serious concerns about caste discrimination as a major human rights challenge at the global level – see idsn.org/unhc
The UN has repeatedly raised concerns on caste discrimination in UN treaty bodies, Universal Periodic Reviews, and the Special Procedures – see idsn.org/uncompilation