In his inaugural address at Civil Services Day on April 21st in New Delhi, Prime Minister Manmohan Singh warned civil servants that there was no room for relaxation of vigil when it came to dealing with violence in India. He pointed out the violence committed against Dalits was a priority and stressed that the Government would work for the development of far-flung areas in order to strengthen internal security.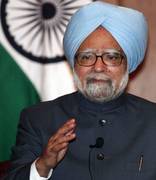 Violent atrocities committed against Dalits who try to better their circumstances or step out of the caste hierarchy remain a huge problem in India. The problem has continued to grow as Dalits are increasingly standing up for their rights.
While impunity and discrimination in law enforcement remain widespread there have recently been some positive signs. This past month has in fact seen several Supreme Court rulings take a strong stance against atrocities committed on the basis of caste and the National Commission on Scheduled Castes has taken action to monitor police registration of cases of atrocities against Dalits.
For example, India's supreme court recently cracked down on the tradition of 'honour killings' meant to punish and deter inter-caste marriage. The judgement stated that "There is nothing honourable in such killings, and in fact they are nothing but barbaric and shameful acts of murder committed by brutal, feudal-minded persons who deserve punishment."
India's top court judges have now directed all administrative and police departments to ensure that couples in such relationships are not harassed or subjected to violence, adding that inter-caste marriages are in the national interest and would help dismantle India's age-old caste system. This is a highly significant judgement which directs state governments to hold administrative and police officials accountable for caste discrimination of all kinds, and recommends their prosecution.
Strong community groups of elders, called Khap Panchayats, often set the rules in Indian villages in regions such as Haryana, Uttar Pradesh and Rajasthan. While these groups have no legal sanctions, the bench comprising Justices Markandeya Katju and Gyan Sudha Misra stated that, "We have in recent years heard of Khap Panchayats which often decree or encourage honour killings or other atrocities on men and women of different castes or religion, who wish to get married or have been married …"
Any opposition to Khap Panchayats diktats are often met with harsh punishment, including public beatings or ostracism and political parties rarely speak out against these councils, which form a major vote bloc for many of them.
In April, the National Commission for Scheduled Castes also met with a civil society delegation to hear the case of the young Dalit Girl, Kamlesh, who was severely burnt and lost the use of her hand when she was pushed into a fire by upper caste villagers for walking on a village road 'reserved' for the upper caste. Her pregnant mother was beaten by the perpetrators when she tried to rescue her six year old daughter from the fire. Kamlesh' family attempted to seek legal redress but as Kamlesh' father explains,
 "Names of four culprits were registered with police. But names of three were removed and only one was arrested. We were forced to withdraw the complaint."
Following the meeting the Commission has ordered the Uttar Pradesh government to appeal the case in the high court and provide medical care and police protection to Kamlesh and her family.
The same month, The National Commission also ordered Police in Punjab to re-open multiple cases of Dalit atrocities which involve forcible compromises by the police or acquittals without proper investigation, as part of a state wide drive to listen to complaints from the Dalit communities pertaining to police handling of killings, rapes and other atrocities against Dalits.
Share this news story on Facebook
More information:
IDSN News: Supreme Court: Caste discrimination is holding up India's progress
Caste Discrimination and Non-implementation of legislation
The case of six year old Kamlesh – pushed into a fire for walking on the wrong road
Related Press Clippings:
SC holds administration accountable for caste atrocities  (InfoChange – Human Rights)
The most significant part of a recent Supreme Court judgment hearing a case of caste discrimination is that it directs state governments to hold administrative and police officials accountable for caste discrimination of all kinds, and recommends their prosecution
Security situation satisfying: PM
India's Primem minister said there was no room for relaxation of vigil and that effectively dealing with atrocities on Dalits and tribals would "continue to be our priorities". …
Supreme Court cracks down on tradition of "honour killings" (Reuters India – Nita Bhalla)
"We are of the opinion that this is wholly illegal and has to be ruthlessly stamped out," said the two judges who were hearing a case of caste discrimination.
Re-open cases of Dalit atrocities: SC commission tells Punjab Police (Indian Express )The state Scheduled Caste Commission directed the local police to re-open all cases where alleged atrocities have been committed on Dalits and forcible compromises executed by the police.
Crime against Dalits high in land of khap panchyats (Indian Express)
BSP condemns atrocities on dalits in Haryana (Times of India)
Houses of Dalits set on fire in Bihar, 40 injured (IBN Live)
Rally by Dalits against girl's kidnapping (Times of India)
Congress vows justice to dalits (Times of India)