Dalit and Adivasis in India are being let down by the Government in the 2020-21 Union budget. IDSN member, the National Campaign on Dalit Human Rights (NCDHR) has released an analysis of the budget showing unacceptable gaps in allocations and highlighting the discrepancies between Government rhetoric when it comes to social inclusion and the figures in the actual budget.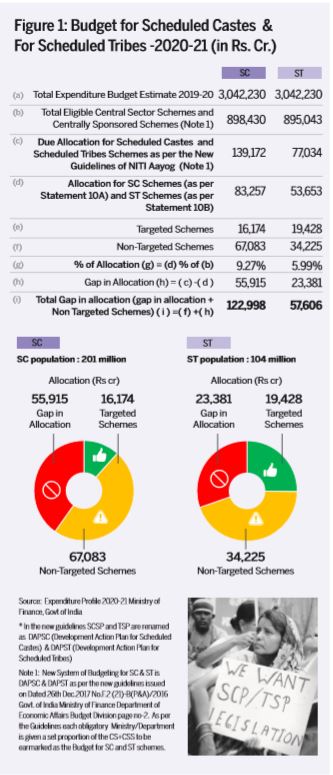 The analysis highlights include:
There is a continuing denial of Scheduled Castes (Dalits) & Scheduled Tribes (Adivasis) allocation thereby violating Government's own norms set by the Niti Aayog
There is a total Gap in allocation of Rs 1,22,998 Cr under SC budget and Rs 57,606 Cr. under ST Budget. Out of the total Budget allocated for Dalits only 19% is targeted schemes (19%) and for Adivasis it is 36%. This shows that most of the schemes are either notional allocation or general allocation
The atrocities and violence against Dalit women continue to increase as per the 2018 National Crime Records Bureau data. However, the amount allocated for the implementation of the SC/ST PoA Act (Prevention of Atrocities Act) has been substantially reduced.
There has been an uprising of the youth from the marginalized communities protesting the fee hike and other barriers in accessing higher education, so it is disappointing that the allocation for the Post Matric Scholarships has only very nominally increased.
A massive amount of Rs. 22,212 Crs has been allocated in the department of agriculture which has about 24 schemes that has no relevance for the community. This is disappointing considering that Dalits do not own land and might not be able to access any of these schemes.
Dalit and Adivasi women often being poor and marginalized, are most dependent on public provisioning of basic services, however the government has only allocated 0.9 percent for Dalit women and 0.34 percent for Adivasi women out of the total eligible Central Sector Schemes and Centrally Sponsored Schemes.
NCDHR provide a full comprehensive analysis in this report on their website which also includes the following recommendations for action.