The National Consultation "Localizing SDGs through Dalit perspectives" drew together over eighty delegates from 15 states in India, to discuss ways forward to address caste and gender discrimination vis a vis the UN Global Goals. The consultation took place in New Delhi on 28th of January.
IDSN participated in the consultation, organised by the National Campaign on Dalit Human Rights (NCDHR), Dalit Human Rights Defenders Network (DHRDNet), Indian Institute of Dalit Studies (IIDS), National Federation of Dalit Women (NFDW), Safai Karmchari Andolan (SKA), National Coalition for Strengthening SC and ST PoA Act and Asia Dalit Rights Forum (ADRF).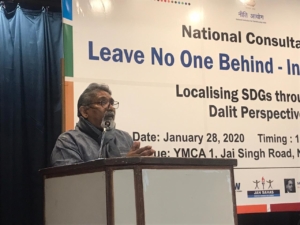 The participants provided recommendations to inform government policy and programmes for the socio-economic development of Dalits in India.
Paul Divakar from ADRF stressed that community concerns were at the heart of the consultation, and commented that it is encouraging to see that the government has come together with civil societies to recognise caste discrimination.
UN Resident Coordinator in India, Ms. Renata Lok-Dessallien, said that the Leaving No One Behind campaign on the Sustainable Development Goals will not materialise for India, if disproportionate discrimination and atrocities against Dalits are not being addressed, especially in relation to Dalit women and children.
Following the conference, the IDSN Membership Coordinator, Ritwajit Das, reflected on things the UN could also do internally to help end caste discrimination,
"Most of the Indian staff at the UN and other international agencies are mainly upper-caste. It's time for the UN, bilateral, multilateral and international donor agencies to recruit and staff more Dalits and Adivasis in their programme, admin and operations team," Mr. Das said.
A short report comprising the discussions, deliberations and suggestions offered during the consultation will be sent to Niti Ayog (the government of India planning board) by NCDHR for inclusion in the SDG-VNR report that the government of India will present in the UN General Assembly in July 2020. NCDHR and other Dalit NGOs will also be publishing a parallel report on the progress of SDGs from the Dalit perspective and issues highlighted in the consultation.