IDSN highlighted the need for urgent action to curb caste-hate speech "spreading like wildfire", speaking at the EU NGO Human Rights Forum keynote panel on 'Fundamental Rights and Freedoms in the Digital Sphere'.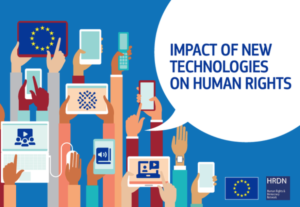 Speaking on behalf of IDSN, Ritwajit Das, explained to the Forum participants that while social media has opened up important spaces for Dalit voices and underpins new outlets such as @dalitwomenfight and @dalitcamera, activists are facing a serious backlash. Caste-hate speech is spreading like wildfire online and serving to oppress Dalits, the lowest castes, inciting online and offline hatred, disrespect, violence and atrocities. He stressed how Dalit women, were especially targeted.
"Dalit Women routinely face extreme attacks. The online prevalence of caste-hate speech has resulted in real-life atrocities. Dalit women go through character assassination in online spaces and the perpetrator can escape by hiding under perceived caste supremacy," Mr. Das explained.
He outlined key characteristics of caste-hate speech and the dangers of this for the participants but also some of the benefits of online platforms for Dalit activists. Finally, he offered six key recommendations to curb online caste-hate speech:
Analyze: there is a need to measure and detect the prevalence of caste-hate speech in online and digital spaces. There is no system anywhere of collecting such data on caste-hate speech.
Dialogue: recognise caste-hate speech as a distinct and separate form of hate. International agencies like the EU and the UN along with media and tech companies should involve, consults and engage with Dalit organisations and caste-hate speech experts.
Skill Development and Empowerment: International agencies should work alongside Social Media Platforms (SMPs) to build skills and offer trainings on caste-hate speech for law enforcement and judiciary. Representation in the workplace of the most marginalized groups including Dalits should be ensured.
Legislative Framework: States must go beyond ratifying treaties and covenants and should develop national legislations and institutional mechanisms to counter caste-hate speech and ensure implementation of those laws. Non-punitive measures, including publicly countering hateful or incendiary misinformation, strengthening security to threatened populations, and public education should be prioritized. Social media companies and platforms should be held liable if they contravene these protective laws and measures.
Policy Input: SMPs should conduct transparent risk assessments of the human rights impact of some of their products. These assessments should be held in dialogue with Dalits and minorities in the context of hate speech. SMPs should implement their own policy protocols on online hate including caste-hate speech.
Involve Dalits: Above all Dalits and other minorities should be involved every step of the way. Look to the next generation, talk to them and invite them round the table. Then we can see the difference that togetherness can make!
Share these recommendations as a Twitter thread >> 
Patrick Penninckx, Head of Information Society Department, Council of Europe, spoke alongside Mr. Das on the panel. He informed participants that the Council of Europe are working on a comprehensive legal instrument to address hate speech.
"We have to clearly define what is acceptable and not acceptable speech and currently the social media platforms have been given this responsibility. We cannot turn social media platforms into our justice system – state actors must take this responsibility." Mr. Penninckx said.
The other speakers on the panel included Maria Ressa – CEO and President of Rappler, Aura Salla – Public Policy Director, Head of EU Affairs at Facebook and Jürgen Heissel – Director of the Office of the OSCE Representative on Freedom of the Media, Organization for Security and Co-operation in Europe.
The Forum took place online and in Brussels on 9-10 December 2020, under the theme 'The Impact of New Technologies on Human Rights'. You can watch a full video stream of the keynote panel on 'Fundamental Rights and Freedoms in the Digital Sphere' here:
Download a full transcript of Ritwajit Das' presentation at the Forum >>