IDSN was represented by Innasimuthu Pandiyan, from IDSN Associate the Social Awareness Society for Youths (SASY), at the Annual Meeting of ALNAP, a global network of NGOs, UN agencies, members of the Red Cross/Crescent Movement, donors, academics, and networks – dedicated to learning how to improve response to humanitarian crises.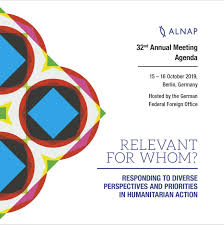 The 32nd ALNAP Annual Meeting, Relevant for whom? Responding to diverse perspectives and priorities in humanitarian action, was held in Berlin on the 15th October and focused on ensuring that marginalised communities were reached and included in humanitarian relief and disaster preparedness efforts.
In the breakout sessions on "Power and Marginalisation" Mr. Pandiyan presented sharing his experiences in the context of caste discrimination and caste-based social exclusion in disaster responses. He highlighted key field experiences based on SASY's research reports since the Tsunami 2004 in India and other disasters including the Thane Cyclone 2011, Chennai Flood 2015, Vardha Cyclone, Gaja Cyclone 2018 and Kerala Flooding in 2018 and 19.
Mr. Pandiyan found that the audience was generally not aware of caste issues and how they differ from issues of race or religion and many participants expressed shock at the cruel forms of exclusions and physical attack on Dalits perpetuated during the humanitarian aid interventions in India and the severity of the exclusion from relief work that was generally faced by Dalits.
He also received a significant response during and after the breakout session from participants curious to learn more and pointed them to the resources available on the IDSN website to promote more awareness of social vulnerability mapping and equity monitoring tools for ensuring social inclusion and addressing caste discrimination in disaster relief situations.
Download a PDF detailing Innasimuthu Pandiyan's presentation