The UN Office of the High Commissioner for Human Rights (OHCHR) hosted the global webinar "When language excludes and discriminate", focusing on descent-based discrimination and words that serve to discriminate, in the context of the Covid-19 pandemic. The event took place on 12 October and was co-organised by IDSN.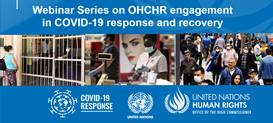 The webinar highlighted the need to move away from using the stigmatising concept of "social distancing", which has been commonplace across UN agencies during the Covid-19 pandemic, and replace this with the term "safe distancing". As Dalit activists explained, the term "social distancing" feeds directly into notions of untouchability, purity and pollution and is exacerbating caste discrimination in South Asia.
Exportation of the indignities of the caste system, particularly untouchability, into the English language has made descent-based discrimination a more visible global phenomenon. Everyday slurs that are demeaning, humiliating and encodes violence are used in many parts of the world to refer to persons belonging to descent-based communities. This event examined how discriminatory language through the prism of the Covid-19 pandemic, exacerbates stigma and marginalization.
IDSN Director, Meena Varma, moderated the webinar and Dalit poet and activist Meena Kandasamy, gave a presentation and published this online subsequently. Dalit activist, Pradip Pariyar, Executive Chairperson at SAMATA Foundation Nepal, also gave insight into the need to end the use of the term "social distancing" in Nepal.
"They say 'sticks and stones may break my bones, but names will never hurt me'. The opposite is often sadly true as everyday words perpetuate and increase everyday casteism. We can be social and still be distanced – what we need right now is to be safe. No matter who you are or where you are." Said Meena Varma.
Key UN experts including the Chief of the OHCHR Indigenous Peoples and Minorities Section, Paulo David, also took part in the webinar discussing ways to take these issues forward within the UN system and beyond. The event was facilitated by Michèle Buteau and Erik Friberg, OHCHR.