Hundreds of Dalit women from across Nepal gathered in Kathmandu for the "Dalit Women's National Conference for Democracy, Justice, Sustainable Peace and Inclusive Constitution" from 2-4 December 2014. The conference was organized by the Feminist Dalit Organization (FEDO) and international speakers included UN Women and IDSN.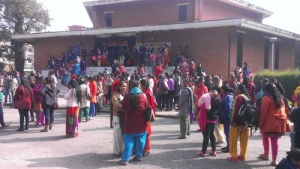 The conference was organized to sensitize Government, political parties, civil society and related stakeholders on Dalit women's human rights issues and agenda, to push for the inclusion of Dalit women's issues in the new constitution and to discuss  the major challenges Dalit women face from the local to the national level.
Around 300 Dalit women from across the country, Dalit non-governmental organizations, Dalit intellectuals, feminist Dalit organization, human rights organizations, Government, political parties, international non-governmental organizations, Donor Agencies, United Nations,  and journalists participated in the conference.
Major themes discussed were the status of violence against Dalit women; media monitoring of violence against Dalit women, political participation and Constitution making as well as the socio-economic status on Dalit women.
Speaking at the conference, the UN Women Representative and acting UN Resident Coordinator on Dalit rights, Ziad Sheikh said,
"When, for example, you are a Dalit woman, you face double discrimination leading to social, political and economic exclusion and often worse. As we know, this is a reality in Nepal," he also commended Dalit women for their leadership saying that, "the remarkable work and ongoing efforts for women's participation in Nepal continues, led by many of you here today."
A conference declaration was drafted with recommendations including:
 

Constitutional provisions should be made to ensure proportional representation of Dalit women in all bodies of the state from the local to central levels.

Proportional representation of Dalit women should be ensured in the quota reserved for women to make it Dalit women-responsive, results-oriented and socially justifiable. Twenty percent of the existing 33 percent reservation quota reserved for women should be allocated to Dalit women

The state is called upon to ensure an equitable society including by safeguarding the rights of the Dalit community and Dalit women through the constitution and the institutionalization and strengthening of federal and provincial structures. The state should ensure that the constitution, legislation, policies and administration  are in line with the spirit of positive discrimination for radical changes to happen in the almost zero-level participation of Dalit women in policy-making and implementation. 

Caste-based and cultural discrimination against Dalit women and the negative impacts caused by these existing customs and tradition in the society should be brought to an end. Relevant acts should be implemented and amendments made to address shortcomings

Special efforts must be made to by the government and other relevant bodies for provision of free health care services, free quality education at all levels and in terms of increasing Dalit women's access to employment; and educational loans. 

Inter-caste marriage should be encouraged and the couple should be provided with both social and economic protection. Persons interfering negatively with such marriage should face economic and social repercussions and imprisonment.

The Minister for Information and Communication, Dr. Minendra Rijal and Mr. Anup Raj Sharma, Chair Person of National Human Right Commission were also special guests at the conference.
More information
Video interview with Ms. Durga Sob on the conference
Dalit women fight for their rights with marches and mass events in Nepal and India (IDSN News)
Nepal: Prime Minister's office holds workshop to address caste discrimination(IDSN News)