Dalit women activists are marching from 23 April – 2 May through 30 villages in Rajasthan, to highlight atrocities against Dalit women and the need for access to justice, education and health. The march, known in India as a 'Yatra', is organised by the All India Dalit Mahila Adhikaar Manch (AIDMAM) and comes at a crucial time in Rajasthan where reports of caste-related atrocities are rife. The activists are meeting students, local activists, health workers, local administration and many other actors to understand the issues on the ground and to amplify the voices for justice.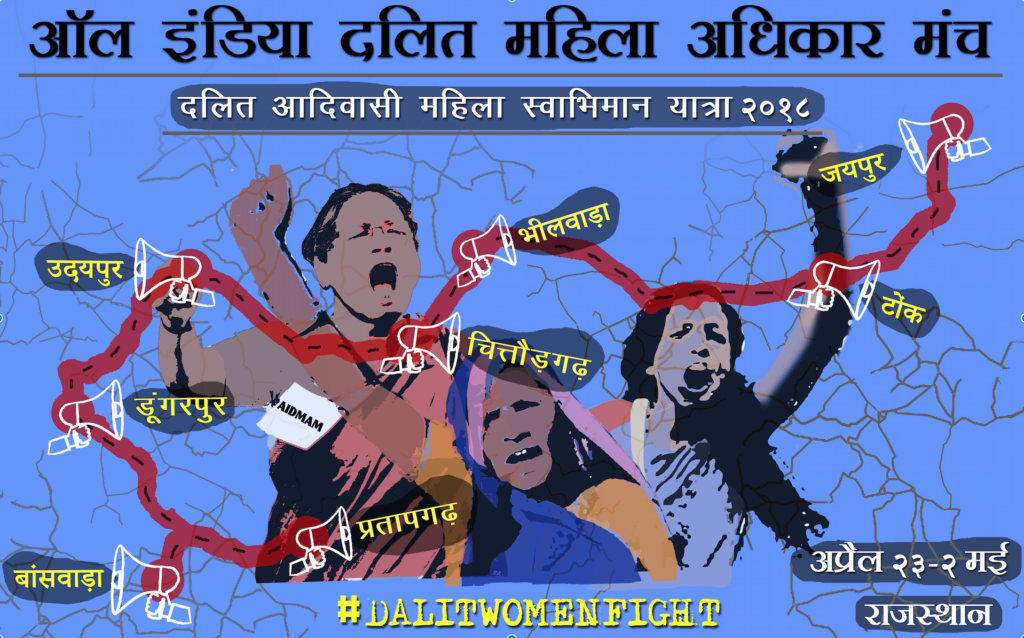 You can follow social media updates on the Yatra via @dalitwomenfight both on FaceBook and Twitter.
AIDMAM have also issued the following press release with more details on the Yatra:
April 22, 2018 Jaipur
All India Dalit Mahila Adhikar Manch, is organising a 10-day Dalit-Adivasi Mahila Swabhiman Yatra scheduled on April 23 – May 2nd. 
What started in 2012 in Haryana, as a small collective of young Dalit women resisting violence against our community; has now evolved into a significant initiative within Dalit Women's organising in India. In the past six years, we have travelled across 200 districts all over North India. Our attempt has been to learn from our people, provide information, support local resistance and amplify our demands to State authorities. In the process, we have also been able to identify and nurture many young women leaders and thereby expand the volunteer base and support groups.
Suman Devathiya, State Secretary, All India Dalit Mahila Adhikar Manch adds, "Dalit-Adivasi Mahila Swabhiman Yatra is our attempt centre voices of women leaders in the struggle for social justice. In 2016 we have travelled 10 disticts and now we will take the yatra to 7 new districts."
On April 23rd, we will begin the Yatra from the South Eastern part of Rajasthan and travel seven districts to reach Jaipur by May 1st, 2018. The Yatra will start from Pratapgarh district and move to Banswada, Dungarpur, Udaipur, Chittodgarh, Bhilwada, Tonk and then Jaipur. We will cover about 30 villages along the 2000kms which we intend to travel.
The focus for this Yatra will be (i) to delve deeper into livelihood, survival and development issues of the SC/ST communities (ii) to understand the implications of the latest Supreme Court order on SC/ST PoA (iii) to learn more and support the demand to drop charges and release the detained persons arrested on April 2nd Bharat Bandh.
We will conduct community meetings, visits to SC/ST hostels, schools, seminars in Universities, meetings with local leaders, visit survivors and families, meet with local authorities etc.
"In this tumultous time in our country, it is now imperative for Dalit women to raise our voices against the growing fascist forces that undermine our right to life and dignity. We are here in Rajasthan to speak about increased State violence on our people and call out the State to protect women from most marginalised communities",  said Asha, General Secretary, All India Dalit Mahila Adhikar Manch.
Please do join us during the Yatra and also make sure you follow our social media updates via @dalitwomenfight both on FaceBook and Twitter. Also please follow the handles of AIDMAM leaders @smriti_shobhana @manjuchouhan @devathiya @rubina06631711 @BaudhCelima @dalitawaz
On May 2nd, we will be holding  State Level Consultation in Jaipur to share the Yatra experiences, discuss the way forward and build a stronger network for Dalit and adivasi Women organising in Rajasthan.