A new report by Anti-Slavery International documents widespread slavery in India's brick making industry and finds that the majority of workers are Dalits. Whole families, including small children, work 9-12 hour days in debt-bondage with little recourse to justice. The report finds that discrimination and exclusion, along with the way brick kiln moulders are recruited and paid, underpins the widespread existence of slavery in the kilns and the limited opportunities for workers to escape.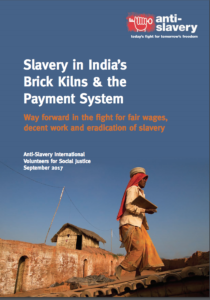 Along with the report, Anti-Slavery has also released a documentary video showing how whole families are enslaved in the kilns and are not paid, and often threatened with violence, if they try to leave. Children do not go to school and are instead working their childhood away under extreme conditions.
In the report caste discrimination is found to be a major factor underpinning slavery in the brick kilns.
"The problem of bonded labour and child labour in the brick kiln industry stems from exclusion and gross economic inequalities within India … In particular, the marginalised castes and classes have not been an equal recipient of the benefits of India's economic growth, with Scheduled Castes (Dalits) and Scheduled Tribes (Adivasis) being most affected by extreme poverty and benefitting less than other groups from increases in income." The report states.
"These forms of exclusion add to the vulnerability of workers: employers feel able to enslave these social groups, who hold little power and influence in the community, with little or no accountability. 100% of the brick kiln moulders (in our study) are from marginalised and excluded castes and classes, and approximately 60% are interstate migrant workers. These factors have resulted in a highly vulnerable workforce that can be controlled and exploited easily by management; additionally due to historical discrimination, employers feel more able to exploit these sections of society."
IDSN Executive Chair Meena Varma welcomes the report which underscores the point continuously raised by IDSN that slavery cannot be tackled without addressing the discrimination which underpins it.
"The findings in this report echo our members experiences that caste discrimination is fueling slavery and labour exploitation across a wide range of industries in India, including textiles, construction, mining and tea. If we are to tackle slavery, then it is imperative that fighting caste discrimination moves to the top of the local, national and global agenda."
Key findings from the report include:
100% of brick moulders were from a minority group; all were from traditionally marginalised/ excluded castes and
Female workers do not receive wages4: workers are hired as a family unit, and wages are exclusively paid to the male head of the household unit.
65 to 80% of children between the ages of 5 to 14 that live in the brick kilns, are working between seven and nine hours a day.
Most children living at the brick kilns are not going to primary school or early childhood services, despite the government having a compulsory responsibility to ensure this.
100% of children between the ages of 14 to 18 reported working at the kiln, on average 12 hours a day in summer months and 10 hours a day during the winter months.
96% of adult males interviewed reported taking an advance (loan) before starting work in the kiln.
Interstate migrant workers are more vulnerable: they take a higher advance (loan), are hired through a labour contractor and face challenges in accessing support.
Workers are paid per 1000 bricks made; this piece rate system of payment consistently limits workers ability to attain statutory minimum wages and incentivises child labour and long working hours.
33% of workers reported being paid less than the minimum piece rate wage for 1000 bricks.
100% of workers had their wages withheld until the end of the brick-making season, which is approximately 8-10 months long.
Workers also have other deductions taken from their wages, many of which are illegal.
84% of workers were paid a lower rate than what had been agreed/promised at the beginning of the season.
Only 27% of male workers reported being registered as employees.
Of the 208 kilns surveyed, 87.72% have access only to untreated ground water as drinking water and 75.8% of toilet facilities had no water provided to them. The average housing dimensions for entire families is 7.6 square meters.
Download the full report from Anti-Slavery here >>
Watch the video documentary here >>