IDSN delegates from South Asia spoke out on the human rights issues faced by Dalits at the UN Forum on Minority Issues in December 2022. Speaking on the panel and from the floor, human rights defenders from India and Nepal shared their experience of discrimination and injustice and their thoughts on the way forward for their communities.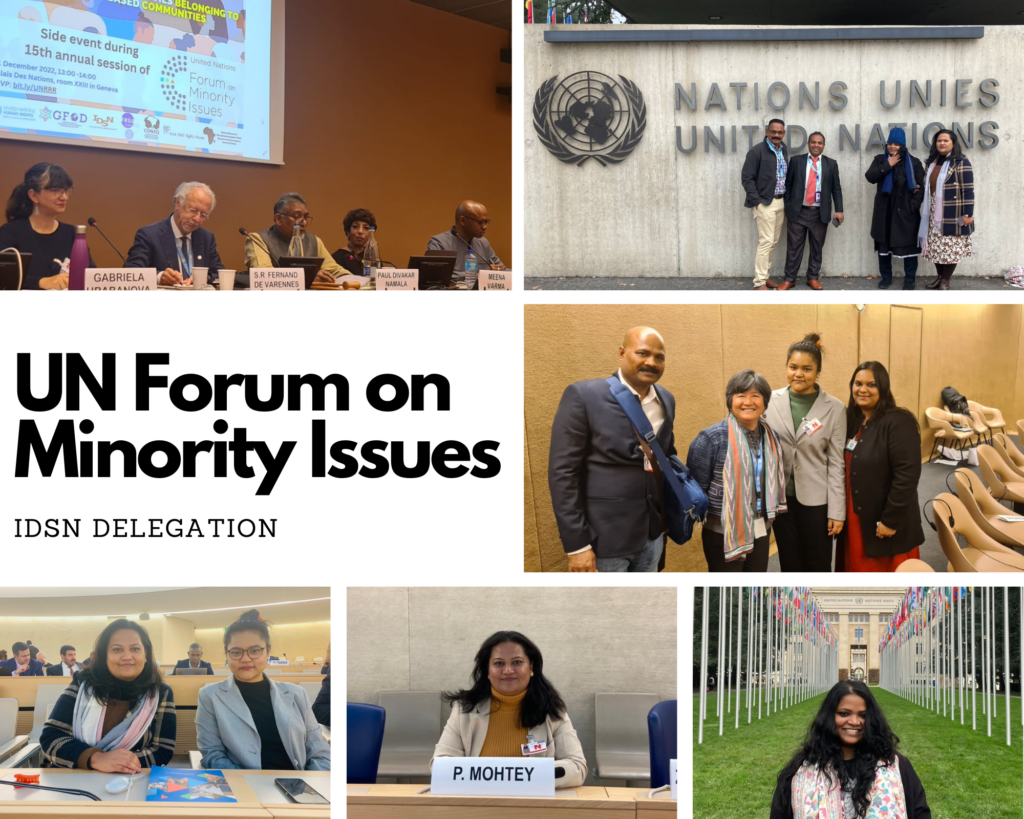 Poonam Mohtey, Project Coordinator at Samata Foundation, spoke on the panel "Rethink: Minority rights defenders and their role in promoting principles of the Declaration", on the 1st December. She spoke as a Dalit woman and rights defender, who has experienced intersecting forms of discrimination throughout her life and in her work collecting data on gender and Dalit rights violations and training. She mentioned that the situation of Dalit women worldwide is far worse than that of Dalit men, but they are widely forgotten – "a minority within a minority". She called on the international community to open more opportunities to better articulate Dalit women's agency and voice, mobilize resources and protect their rights.
Her presentation was an important contribution to this year's Forum focus on how to enhance participation and visibility of minorities in the UN mechanisms and fora. IDSN delegates also participated in the comprehensive programme of the Forum reflecting on the 30th anniversary of the UN Declaration on the Rights of Minoritiesand the way forward.
Prameela K. P. from the All India Dalit Mahila Adhikar Manch (AIDMAM) also prepared a statement for the Forum, that due to time constraints was not presented live, however we have posted this statement on the IDSN YouTube channel.
IDSN's Executive Director, Meena Varma, also spoke as a panelist at the side-event "Review, Rethink and Reform – UN Protection of Minorities Belonging to Descent-Based Communities". She spoke about the importance of hearing the voices of Dalit rights defenders and pleaded for a greater inclusion of these defenders at the UN fora.
The UN Special Rapporteur on Minority Issues also spoke at the side-event, identifying an opportunity to reform the UN minority instruments and machinery, include descent-based communities and address challenges such as hate speech and intersectionality.
Despite the fact that there is a longstanding recognition of caste and descent-based discrimination within the UN human rights system, Dalits and communities affected by caste are still largely relegated to the margins of this institution.IDSN looks forward to participating in the interactive dialogue of the Rapporteur during the 52nd session of the Human Rights Council (March 2023) to discuss how communities affected by caste discrimination can enjoy greater participation and visibility in the UN fora and mechanisms.
See the collection of Tweets by IDSN for the UN Forum on Minority Issues: