This year the European Development Days from 15 – 16 June 2021 brought together thousands of participants from around the world, all completely digitally. The theme, which was carried over from 2020, centred on 'A green deal for a sustainable future'. This theme was expanded to include the effects of COVID-19 pandemic which has shown the interlinkages between human health and a healthy planet.
On this virtual platform IDSN was chosen to display a stand at the Global Village. The Global Village set up like an online agora, is filled with innovative projects and ground-breaking reports from around the world. Participants were able to look around the stands, interact with the collaborators and make new connections through the public chat box, by sending emails or using the networking function.
IDSN's stand was staffed by experts from South Asia – such as Monalika Tiwari and Amu Vinzuda from Rashtriya Garima Abhiyan, along with Bezwada Wilson from Safai Karmachari Andolan from India. These experts were able to engage with participants on a multitude of topics, such as sanitation, manual scavenging and Dalit human rights. From Pakistan Pirbhu Lal, a former UN Minority Fellow, represented the Pakistan Dalit Solidarity Network. The stand received comments from EDD participants in the public chat box.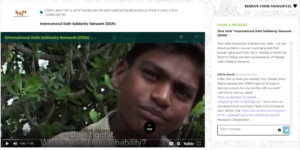 A picture of IDSN's virtual stand and public chat box.
This delegation also participated in the scheduled programme, attending events such as 'Water, Sanitation and Hygiene (WASH) innovations for inclusive growth', 'Boosting circularity in the global textile industry', 'Disasters, climate change and displacement' and many more.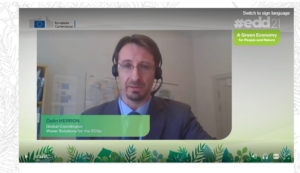 As these events were purely webinar style, there were not many opportunities for our delegates to input but they were able to make comments and ask questions to the panellists.
Feedback from the delegation that attended the European Development Days.
Ritwajit (India): "EDD21 was a nicely done event considering that we are in the middle of a pandemic outbreak. I really liked the agenda and sessions around water sanitation, biodiversity, climate change, green economy, forestry and indigenous communities. The speakers line up was fabulous and stories from the global south received their due significance. However, stories on minorities like Dalits, Romas etc. are not as discussed in these talks – there should be representation or case presentation on these issues."
Pirbhu (Pakistan): "…it was a good learning experience to understand it … I feel Dalits are more affected of every disaster whether manmade or natural and their plight/misery needs to be highlighted at every forum."