Two new reports on child labour in the Indian seed industry have prompted a Dutch member of the European Parliament to ask questions about the EU's relations with India – including the issue of Dalits.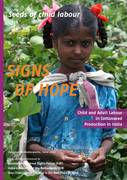 More than half a million Indian children – including 230,000 under the age of 14 – grow cottonseed and vegetable seeds under hazardous conditions, including very long working hours and exposure to pesticides. A significant number of these children are Dalits.
Such are the findings of two new field-based research studies published in June by the India Committee of the Netherlands, the International Labour Rights Forum and the campaign 'Stop Child Labour – School is the best place to work'. The studies cover more than 90 percent of total Indian cotton and vegetable production in a number of different states.
While focusing on the general problem of child labour in the seed industry, the reports also deal with caste discrimination against the workers. In most states, Dalits and Adivasi (tribal people) constitute the majority of workers. Dalits are frequently ill-treated and expected to do additional work, such as cleaning cattle sheds and carrying loads.
A case study involving a Dalit child, 12-year old Salvamani from Tamil Nadu, shows that children are often pressured to combine school and work. During a period of three months, she works six hours a day – and goes to school for another six hours. Many children become overwhelmed and drop out of school to continue working in the fields.
The studies note that child labour in cottonseed production, while still a huge problem, has decreased in India by 25 percent since 2006-2007. The decline is greater in areas where NGOs and companies have made efforts to eliminate child labour.
The Dutch MEP, Peter van Dalen, has asked the European Commission five questions based on the reports, including whether the Commission intends to "raise the issue of child labour, adult exploitation and ill-treatment of Dalits and Adivasi in its political dialogue with India?" Another question addresses the issue of discrimination:
"Does the Commission have a policy of addressing the situation of specific discriminated groups such as women (girls) and Dalits in its contacts with the Indian government?"
Peter van Dalen has raised the issue of caste discrimination on numerous occasions, most recently when he asked the Commission about its opinion on the position of Dalits in India. The questions were prompted by a speech delivered in New Delhi by EU High Representative Baroness Ashton. The speech did not include references to human rights issues.
Study: Seeds of child labour – Signs of hope
Study: Growing up in the danger fields
Media release on the two reports
Open letter to the ILO on seed reports
Questions asked by MEP Peter van Dalen
India Committee of the Netherlands