Dalits in India have for centuries been forced into working without proper tools or protective gear to clean dry latrines, sewers and septic tanks, a practice known as 'manual scavenging'. This is not only demeaning but also extremely dangerous work and activists have been campaigning for many years for the proper implementation of laws banning the practice and rehabilitating those who have been engaged in it. This past month it has been uncovered that in the Delhi municipality alone, there has been an alarmingly high number of deaths of sanitation workers lowered into the city's sewers with no equipment to protect them. Activists are sending the message that India must #stopkillingus and that the caste-based practice must end now.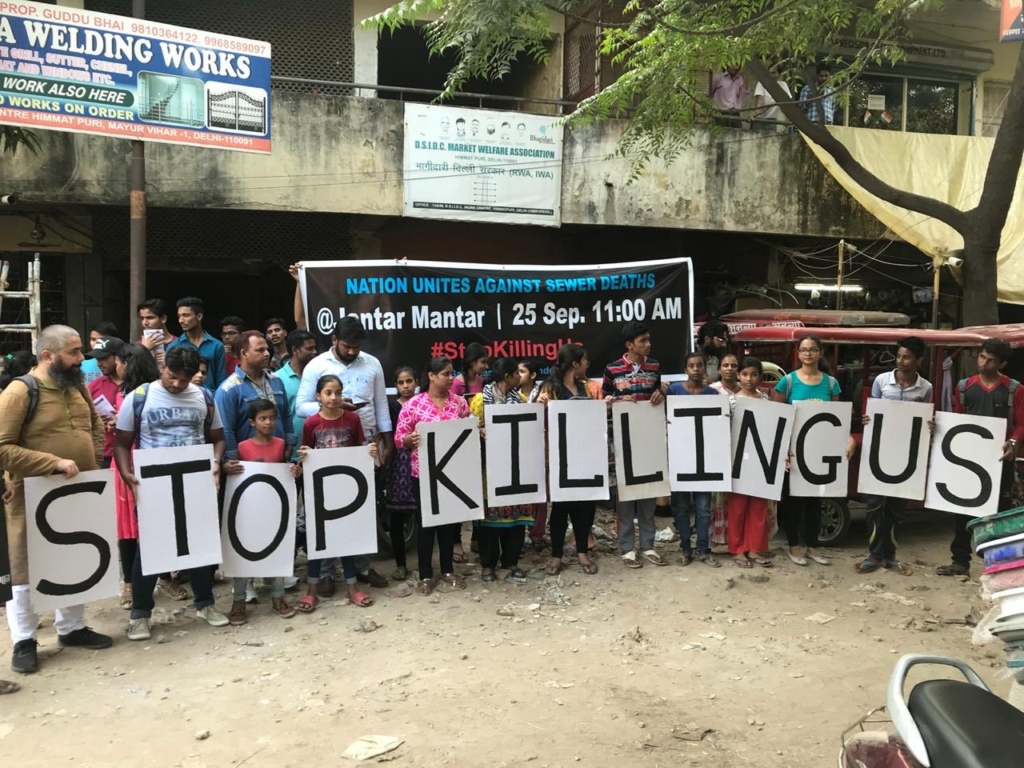 The call to action has come from the Safai Kramchari Andolan (SKA), an organization that has been fighting for the rights of manual scavengers and helping them break out of the practice. The protesters included relatives of many who died due to manual scavenging and human rights activists including many of IDSN's members. SKA has reported that about 1800 sewer cleaners have been asphyxiated to death in the last decade. One protester was reported saying,
"I lost my only son – he went into the sewers and never came out. How long will these deaths continue."
IDSN has been bringing the issue of manual scavenging to global fora for over a decade and despite laws banning the practice being introduced and amended the practice seems to be continuing unabated.
More information on manual scavenging:
Video: We can't address sanitation without talking caste, say Bezwada Wilson and Beena Pallical
UN Expert criticizes India's sanitation drive for exacerbating manual scavenging
ILO Resource Handbook for ending manual scavenging
Video: Manual Scavenging: Picking Up Human Waste In India (Al Jazeera)
Forced to Clean Human Waste in India (Video – Human Rights Watch)
Cleaning Human Waste: Manual Scavenging, Caste, and Discrimination in India – HRW report (News, 2014, IDSN, Manual Scavenging, India)
Older IDSN news stories on manual scavenging:
Rights defenders: 27 manual scavengers die in one month – Government must act now (IDSN News)
Bhim Yatra gives hope to manual scavengers (IDSN News)