Report on the UN Human Rights Council 26th session, 17th June 2014, side-event on 'Caste-based violence against women: The role of the UN in combatting caste-based violence and discrimination'.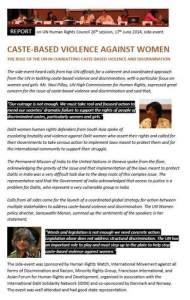 Summary:
The side-event heard calls from top UN officials for a coherent and coordinated approach from the UN in tackling caste-based violence and discrimination, with a particular focus on women and girls. Ms. Navi Pillay, UN High Commissioner for Human Rights, expressed great concern for the issue of caste-based violence and discrimination and said that, 
"Our outrage is not enough. We must take real and focused action to mend our societies' dramatic failure to support the rights of people of discriminated castes, particularly women and girls."
Dalit women human rights defenders from South Asia spoke of escalating brutality and violence against Dalit women who assert their rights and called for their Governments to take serious action to implement laws meant to protect them and for the international community to support their struggle. 
The Permanent Mission of India to the United Nations in Geneva spoke from the floor, acknowledging the gravity of the issue and that implementation of the laws meant to protect Dalits in India was a very difficult task due to the deep roots of this complex issue. The representative said that the Government of India acknowledged that access to justice is a problem for Dalits, who represent a very vulnerable group in India.
Calls from all sides came for the launch of a coordinated global strategy for action between multiple stakeholders to address caste-based violence and discrimination. The UN Women policy director, Saraswathi Menon, summed up the sentiments of the speakers in her statement, 
"Words and legislation is not enough we need concrete action. Legislation alone does not address structural discrimination. The UN has an important role to play and must step up to the plate to help stop caste-based violence against women."
The side-event was sponsored by Human Rights Watch, International Movement against all forms of Discrimination and Racism, Minority Rights Group, Franciscan International, and Asian Forum for Human Rights and Development, organised in association with the International Dalit Solidarity Network (IDSN) and co-sponsored by Denmark and Norway. The event was well attended and had good state representation.
Read the full length report here
Read the joint IDSN/Human Rights Watch press release from the event here
Read the full statement made by UN High Commissioner for Human Rights, Ms. Navi Pillay here