The SOMO/Arisa report 'Spinning around workers' rights: International companies linked to forced labour in Tamil Nadu spinning mills' researched 29 spinning mills in Tamil Nadu, India. Rights violations uncovered included situations amounting to forced labour, excessive overtime, sexual harassment, violence and hostile and threatening working environments. The workers are from marginalised communities, many of them Dalits.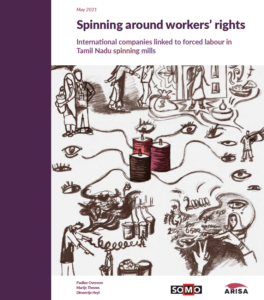 "Based on our research, we conclude that the living and working conditions in the textile industry in Tamil Nadu are deplorable. In the worst case, this amounts to forced labour. Buying companies must take measures to prevent forced labour from occurring in their supply chains, and take account of the risk of forced labour in their purchasing practices," said Pauline Overeem, Researcher at SOMO.
The report presents evidence of the existence and/or the risk of forced labour in the 29 spinning mills investigated. The indicators highlighted in the report are: abuse of vulnerability, deception, intimidation and threats, abusive working and living conditions, and excessive overtime. The researchers also found very limited awareness of labour rights and trade unions among workers, with less than 20% of workers reporting that there was a trade union at their workplace.
On the basis of the new findings presented in this report, combined with analysis done earlier by Arisa, SOMO and other organisations, the researchers conclude that the problems found are not limited to the researched mills; forced labour is a major risk throughout the entire Tamil Nadu textile sector.
Dalit female workers facing abuse at the mills
The report also cites existing research by Fear Wear Foundation finding that "…Dalit female workers are abused for their caste status by being given more overtime, heavier work, cleaning tasks, being given extra work during night shifts, being denied leave, and being subjected to verbal and physical harassment […] at the hostels, female Dalit workers are not allowed to choose rooms or complain, and several deaths were reported after cases of sexual abuse in textile mills," and  "segregation based on caste and class is prevalent in canteens and hostel accommodation. Workers from Scheduled Castes and Scheduled Tribes are sometimes not allowed to drink from the same water tap as workers from 'higher' castes".
IDSN welcomes this report which comes following recent cases of abuse in garment factories in Tamil Nadu. In April, IDSN issued a joint statement with the Asia Floor Wage Alliance statement Act now to end caste and gender based violence and discrimination in the garment industry calling on all global brands sourcing textiles from India to take immediate action to end rights abuses in their supply chains. For guidance specific to caste please read the Ethical Trading Initiative Base Code Guidance on Caste in Global Supply Chains.
5 quotes from interviewed female workers at the spinning mills:
"Here, we are working like slaves. Here, I am losing my life and must bear all kinds of torture."
"We do not feel at ease. There is a threatening atmosphere. There are several disturbances; sexual harassment is one of them. We do not feel safe when we are alone in the workplace or in the hostel or when we are using the toilet. We are not safe."
'We cannot report to anyone. We share some minor issues to the hostel warden. But the issues such as related to sexual harassment we do not share with anyone. There is a committee, but we do not complain. It is often inactive.'
'I am unhappy, I feel trapped. This makes me angry. I feel like running away from this place, but I can't leave because of my family's situation.'
'They are making us do the day and night shift continuously, without any rest. There is even no time to go to the toilet. We are always working. We are even not allowed to go home for holidays.'