IDSN members and associates from across the globe met in Geneva in November for the IDSN General Assembly. The assembly spread over two days brimming with energy, new ideas, and determination to strengthen the fight for human rights, justice and equality for all, irrespective of caste.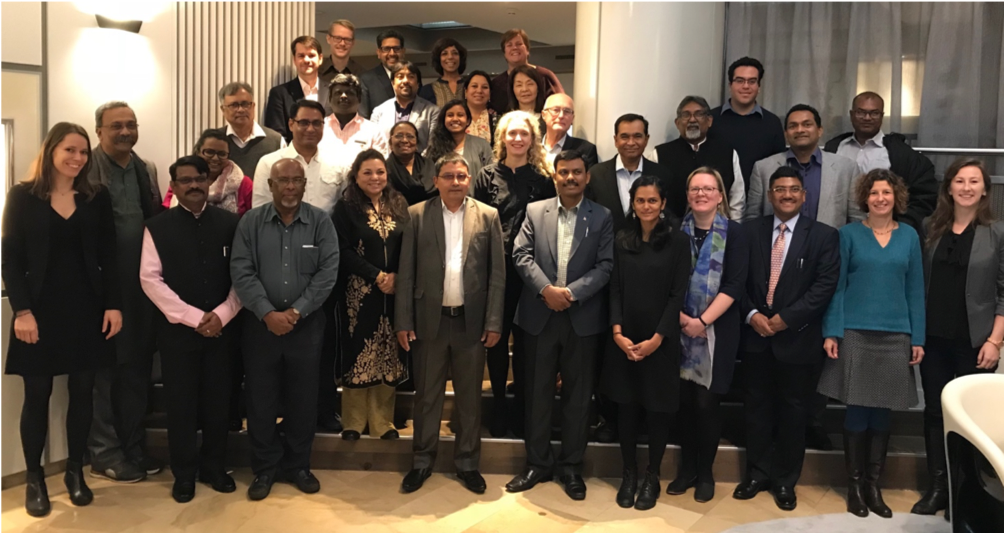 Members and associates shared the latest updates from their respective countries and future plans were discussed. A new IDSN 5-year strategy was also adopted, which will be finalised and published in the beginning of 2019. The assembly provided a good platform to network and learn from each other and find new ways to engage across countries.
The General Assembly discussions were especially focused on IDSN's three coming strategic priorities – Dalit Women and Gender Justice; Equality and Participation; and Business and Human Rights. Programme priorities for the coming year were also discussed as well as other topics such as focusing on the UN Sustainable Development Goals, growing the IDSN network and building on IDSN's media outreach work.
See the tweets from the General Assembly below to get a feel for some of the topics addressed.
The IDSN General Assembly 2018 #idsnga2018 kicks of. Looking forward to two fantastic days that will take the fight to #endcastediscrimination forward. #dalitwomenfight ⁦@DalitRights⁩ pic.twitter.com/ARjIc3XBQM

— IDSN (@idsnupdates) November 26, 2018
IDSN's General Assembly hears from all network members on their inspirational work and chart out strategies for the years to come. #idsnga2018 #dalitwomenfight @DalitRights pic.twitter.com/S9s06kPQ1A

— IDSN (@idsnupdates) November 26, 2018
"Dalit women have been elected locally in Nepal but their participation is not meaningful & not dignified. Their voices are not being heard. So it is extremely important to see Dalit women and gender justice at the forefront of the new IDSN strategy" #idsnga2018 #dalitwomenfight pic.twitter.com/QOegr7SmLY

— IDSN (@idsnupdates) November 26, 2018
"If we are talking about leave no one behind we have to look at Dalit women," says @sitara1 as day two of the #idsnga2018 kicks off with discussions on Equality and Participation and implementing the #SDGs. #dalitwomenfight @DalitRights pic.twitter.com/vFwXeFS7yi

— IDSN (@idsnupdates) November 27, 2018
Tamanna explains how discrimination is seriously curtailing human rights for Dalits in Bangladesh and the need to engage with the #SDGs and implement the anti discrimination bill. #idsnga2018 #dalitwomenfight @DalitRights pic.twitter.com/Ll5qSPyztx

— IDSN (@idsnupdates) November 27, 2018
"All the SDG goals are equally important for Dalit communities, because caste discrimination cuts across all these goals. We as Dalits and Dalit women must connect with regional & international forums on SDGs so that our voices are heard," says Durga of @FEDONepal at #idsnga2018 pic.twitter.com/gIUXkabBQn

— IDSN (@idsnupdates) November 27, 2018
"The most vulnerable workers are all too often Dalits – we have to force business to look at this" says Meena Varma introducing the session on Business and Human Rights at the #idsnga2018 pic.twitter.com/t4UZS9w0u1

— IDSN (@idsnupdates) November 27, 2018
Dalit Solidarity Networks from Europe present on how solidarity drives their work advocating for action on caste-based discrimination and chalk out future strategies. #idsnga2018 ⁦@DSNUK⁩ ⁦@sape_123⁩ pic.twitter.com/JHpVeJtHWZ

— IDSN (@idsnupdates) November 27, 2018
Two fantastic days of rich discussions charting out the next five years of @idsnupdates work come to a close. The #idsnga2018 is over but participants return to take up the work to #endcastediscrimination filled with energy and new collective strategies. Jai Bhim! @DalitRights pic.twitter.com/EP5m3Ja3MJ

— IDSN (@idsnupdates) November 27, 2018