On 9th of May thousands of Dalits and Adivasis (Tribals) from all over India stormed up to the Parliament in New Delhi to demand their rightful economic share in the state and union budgets.
"The scorching heat did not deter their spirits as they shouted  in unison and one could her the beating drums as if to stir the capital to reclaim what is rightfully theirs," reports the National Campaign for Dalit Human Rights (NCDHR) from the event. The march was organised by the SC/ST Budget Adhikar Andolan, a coalition of civil society organisations from across the country.
The marches are being held to reclaim the right to funds meant for Dalits, which have been diverted or misallocated to general schemes, with little or no benefit to Dalits. The funds could help lift millions of Dalits out of poverty and destitution.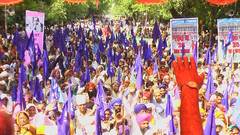 In connection with the protests an online petition has been launched and the campaign are encouraging all those concerned about human rights and development to sign the petition "Reclaiming
our economic right- Sau Mein Pachees Haq Hamara!" here
Dalit activist, professor and member of the coalition, Vimal Thorat, said that the coalition would not rest till they have won the fight for dignity and economic rights. Paul Divakar, General Secretary of NCDHR and member of the coalition, said that they would flood the streets of every capital in the country till their demands are met.
The demands include that central legislation be designed to ensure the proper implementation and allocation of the Special Component Plan and Tribal Sub Plan meant to benefit Dalits and
Adivasis, and that the Union Government return the vast amounts of money already diverted from these plans to cover the shortfall. The full demands can be found in the press release from the SC/ST Budget Adhikar Andolan

Several members of Parliament also spoke to the angry protesters, sharing their frustrations and assuring them that they would push for the adoption of their demands in Parliament.
On 24th April, a similar march was held in Delhi, and the Dalits and Adivasis in India are determined to keep demanding their rights and are refusing to be short-changed when economic rights which are theirs on paper are distributed.
More information:
Read the press release from the SC/ST Budget Adhikar Andolan
Read the IDSN news piece on the 24th April rally on this issue 
Read the full report on the 24th April March, from the Campaign, including the list of demands submitted to the prime minister 
Watch a video from 2011 on the diversion of funds meant for Dalits to cover the staging of the 2010 Commonwealth Games 
Find more information on monitoring of budgets on NCDHR's website