On 14 April, Dalit communities across India will celebrate the 119th birth anniversary of the spiritual father of the Dalit movement and architect of the Indian constitution, Dr. B.R. Ambedkar.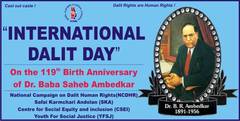 For India's Dalits, Wednesday 14 April will be a day of celebration. Every year, they walk to the parliament building in New Delhi in huge numbers as a sign of respect for the memory of Dr. Ambedkar, who remains the inspirational symbol of their struggle for dignity and human rights. The anniversary is also marked in many other parts of the country.
There will be an official ceremony, after which the gates of the parliament premises will be opened to the general public. Thousands of Dalits are expected to pay tribute to Dr. Ambedkar at his statue on this day, which has been named "International Dalit Day" by Dalit organisations.
This year, the National Campaign on Dalit Human Rights (NCDHR) has joined forces with three other organisations, Safai Karmachari Andolan (SKA), the Center for Social Equity and Inclusion (CSEI) and Youth for Social Justice (YFSJ) in setting up a stall on Parliament Street to celebrate the anniversary as a day of liberation and freedom. On the eve of the anniversary, the NCDHR stated the following:
"The struggle that Dr. Ambedkar started for the rights of Dalits – be it economic, political or social – has yielded results but still much more needs to be done, as the policies of the government continues to defy the basic essence of equality and welfare embedded in our constitution. On Dr. Ambedkar's Birth Anniversary it is all the more important that we commit ourselves to the rights of all the socially and economically excluded social sections and intensify the struggle for what we deserve."
Dr. B.R. Ambedkar (1891-1956) – also known as Babasaheb – was one of the first Dalits to receive a college education in India. He went on to earn law degrees and multiple doctorates for his research in law, economics and political science from Columbia University and the London School of Economics.
Returning to India as a respected scholar, he became a prominent political figure and the leading advocate for Dalit political rights and social freedoms. A fierce opponent of India's caste system, he was independent India's first law minister and drafted the country's constitution.
Dr. Ambedkar is considered an important national figure in India, where his birthday is a national holiday, but he is particularly revered by the country's more than 200 million Dalits.
Last year, IDSN published a set of principles and guidelines to address caste discrimination in the private sector, which were named the Ambedkar Principles.