Two human rights groups, NCDHR and HLRN, have called for the prosecution of officials who illegally diverted funds from Dalit social welfare programmes to the Commonwealth Games in New Delhi.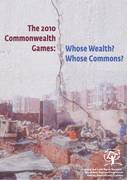 The Indian Union Minister for Home Affairs, P Chidambaram, has admitted that the Delhi state government was wrong to divert funds earmarked for the welfare of Dalits (known as Scheduled Castes) to the budget of the upcoming Commonwealth Games in the Indian capital.
According to the Minister, an amount of 678 crores, which is equivalent to approximately 113 million Euros, has been diverted from the Scheduled Caste Sub Plan to Commonwealth Games infrastructure development. Mr Chidambaram said that this amount would be brought back to the welfare programmes. He added that similar diversions were taking place in many states.
The Minister's admission contradicts numerous statements by officials of the Delhi state government who have repeatedly denied that funds had been diverted. It follows a tireless campaign by a number of rights groups in India, including the National Campaign on Dalit Human Rights (NCDHR) and the Housing and Land Rights Network (HLRN).
The two organisations have now urged the authorities to expand the already ongoing investigation into the case and to prosecute the officials who "took the decision to divert and embezzle public money".
They have also called for the immediate return of the funds and their allocation for measures that are "truly aimed at promoting the development of Scheduled Castes, one of the most marginalised groups in India, such as loans and support for manual scavengers, promotion of entrepreneurship schemes, provision of loans, training and education, construction of houses and shops."
For some time, rights groups have argued that the Commonwealth Games would be harmful to poor and marginalised people. In May, HLRN published a report titled 'The 2010 Commonwealth Games: Whose Wealth? Whose Commons?' documenting that multiple human rights violations had taken place during preparations for the international sporting event. The report also provided evidence of the diversion of huge sums of money from welfare programmes to the budget of the Games.
Read a joint press release from NCDHR and HLRN on the Minister's admission
More on the Minister's statement, including press clippings
NCDHR/HLRN press release on the diversion of funds
Click here to download the HLRN report