The IDSN Annual Report sums up significant developments in the struggle against caste discrimination in 2013.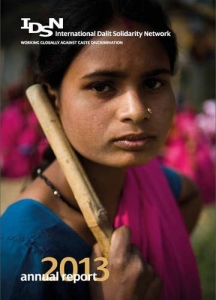 As a result of this year's work, and of the many previous years build-up, 2013 has seen a particularly strong response at international level. In this work IDSN's member platforms in South Asia, the Dalit Solidarity Networks (DSNs) in Europe and national and international associates have played an important role. Summaries of our members work, and the current situation in caste-affected countries are covered in the country chapters and the DSN chapters of this report.
The highlights of action to end caste discrimination in 2013 include:
Seven UN experts issue a powerful media statement against caste discrimination and 'untouchability'

The UN High Commissioner for Human Rights, Navi Pillay, issues several strong statements on caste discrimination

UN side event on Dalit women is co-sponsored by five UN member states

Caste discrimination is recognised as a source of inequality in the global discussion on the post-2015 development agenda

UN/OHCHR hosts a South Asia regional consultation on caste-based discrimination 

The European Parliament adopts a resolution on caste discrimination

IDSN releases the report 'Equality in aid' on addressing caste discrimination in humanitarian response 

The European Parliament adopts legislation for financing the EU Instrument on Democracy and Human Rights, including caste as a ground of discrimination to be addressed

The Indian Parliament passes a new bill against manual scavenging 

Twelve-day campaign against caste discrimination carried out by Dalit civil society groups in Nepal

The United Kingdom bans caste discrimination, but implementation of the law is delayed

 
Despite the many inspiring results many mountains still remain to be moved to ensure that Dalit rights are not only reflected on paper but are also trickling down to those who need to exercise them the most. Issues of non-implementation at country level and impunity for crimes committed against Dalits are unfortunately still serious obstacles in the fight for Dalit rights. The particularly vulnerable situation of Dalit women is also extremely concerning as is the frighteningly high numbers of Dalits employed in modern slavery. These are issues that will continue to be at the forefront of IDSN's work in years to come.
The IDSN Annual Report can be downloaded here www.idsn.org/ar2013.