A 17-year old disabled Dalit girl and her 60-year old father were burnt alive as a mob set fire to 18 Dalit homes in the village of Mirchpur in the Indian state of Haryana.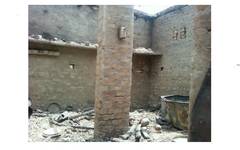 Longstanding tensions between upper caste Jats and Dalits in Mirchpur are believed to have been the cause of a savage attack against the large village's Dalit community that resulted in two deaths and much destruction.
On the 21st of April, hundreds of Jats surrounded a group of houses inhabited by Dalits, poured kerosene onto them, bolted the doors from the outside, and then set them ablaze.  Suman, a 17-year old Dalit girl who suffered from polio, was locked in her house with her 60-year old father, Tara Chand, and could not escape the flames.
This atrocity was the culmination of two tension filled days following a drunken brawl between individuals from the Jat and Dalit communities in the village.  According to a report by a fact-finding mission that included representatives of the National Campaign on Dalit Human Rights (NCDHR), the attack was a manifestation of deep-rooted caste divisions in Mirchpur.
The Dalit community claims that the local police's failure to take preventive action during the events was a direct result of an anti-Dalit bias. Following local Dalit protests, the state government has now announced the planned suspension of a local police officer. Thirty Jat men have also been detained.
The fact-finding team found that a sense of insecurity reigns in the village, which has experienced other instances of caste-related violence in the recent past. The report suggests that the attack was pre-planned and that the police did nothing to stop it. It also states that some of the village's most successful Dalits were targeted in order to teach them a lesson.
Many Dalits in Mirchpur now fear further attacks from the village's Jat majority and have asked the authorities to be resettled in another area.
Click here to download the fact-finding report
Click here for a press release by the fact-finding team