The National Conference of Dalit Women organised by the Feminist Dalit Organisation (FEDO) took place in Kathmandu from the 11-13th May. The conference brought together Dalit women activists from 75 districts of Nepal; Human Rights activists, constitutional assembly members, researchers, representatives from UN and bilateral agencies and I/NGOs, members of the media; and international delegates from, India, Bangladesh, UK, Sweden, Hongkong, and Denmark.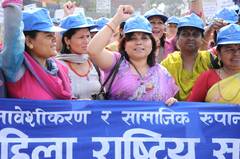 To kick off the conference, more than 800 activists participated in a rally that marched through different parts of Kathmandu chanting slogans related to Dalit women's rights and the upcoming new constitution.
FEDO President Durga Sob welcomed participants from near and far to the conference. Ministers for Local Development, political parties' leaders, UNDP Nepal Resident Coordinator, civil society leaders and international delegates were among the special guests at the conference bringing together an impressive number of Dalit women activists from across the nation.
The topics covered over the three day programme included Constituent Assembly and State Restructuring; Madhesi Dalit women and their problems; Badi women and their problems; Sharing International experiences; Issues of far western Dalit women; and Impact of Inter-caste marriage on Dalit women. Papers were presented and commented on and the third day of the conference was dedicated to group discussions. The conference also included drama and dance performances communicating the stories of women affected by caste discrimination.
There is a full English language conference report underway and the'Kathmandu Proclamation on Dalit Women's Issues in the New Nepal' was released as a concluding document on the final day of the conference. The Proclamation specifically outlines demands relating to Dalit women for necessary economic, political, social, cultural, education, health and legal steps to ensure their rights including provisions the new constitution.
Subash Chandra Nemwang, Chairperson of the Constitution Assembly, who inaugurated the conference said that the conclusion and recommendations of the conference would be fruitful for the constitution making process especially in addressing the agendas and issues of Dalit women. "The constitution making process is really challenging but we can turn this into an opportunity to favour the marginalized, disadvantaged groups and bring their issues into the mainstream," he added.
Only a few days after the conference had concluded, the Nepal Government passed the long-awaited and historical Caste-based Discrimination and Untouchability Crime Elimination and Punishment Act. This act had also been discussed at the conference. Ms. Sob states that the act is a great achievement for all Dalits and an important tool for Dalit women to use when fighting for justice.
View a slideshow of pictures taken by FEDO/ IDSN from the rally and conference here
More information:
See the full news piece from FEDO on the conference here
Download the full Kathmandu Proclamation on Dalit Women Issues in New Nepal here
Read the IDSN Press Release on the passing of the new 'Untouchability Bill' in Nepal' here
Read more about Dalit women in Nepal here
** This article is based on reports provided to IDSN by FEDO *