"Casteless or Caste-blind?" was launched at a ceremony at the Sri Lanka Foundation Institute, on the 6th of February. Early reports show that the study has already generated increased public interest in the issue.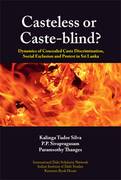 The speakers at the launch included Prof. Jonathan Spencer of the University of Edinburgh, Dr. Selvy Thiruchandran of the Women's Education and Research Centre and Senior Advocate R. K. P. Goonesekera.
The study examines the dynamics of concealed caste discrimination, social exclusion and protest in Sri Lanka and outlines recommendations to the Government of Sri Lanka – to help counter caste-based discrimination in the country.
"Casteless or Caste-blind?" is published by International Dalit Solidarity Network (IDSN), Indian Institute of Dalit Studies (IIDS), and Kumaran Book House and authored by Kalinga Tudor Silva, Senior Professor of Sociology and Dean, Faculty of Arts, University of Peradeniya, P. P. Sivapragasam, Director, Human Development Organisation, Kandy and Paramsothy Thanges, lecturer in Sociology, University of Colombo
It is hoped that the book form of the study will help raise awareness of the caste issue in Sri Lanka and spark dialogue and action within the Government of Sri Lanka.
Download "Casteless or Caste-blind" in English here