The Human Rights and Democracy Network has launched a campaign asking Members of the European Parliament and candidates for the EP to take 5 pledges to stand up for human rights.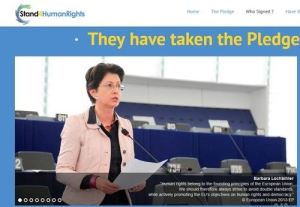 As a member of the Human Rights and Democracy Network (HRDN), IDSN fully endorses the campaign that encourages more initiatives in the European Parliament, such as the recent EP resolution on caste discrimination, to be taken. HRDN comprises 47 member organisations operating at the EU level in the areas of human rights and democracy, including Amnesty International and Human Rights Watch.
MEPs and candidates who are running to become MEPs can sign the pledge on the campaign website www.stand4humanrights.eu where there is much more information on the campaign.
HRDN writes on the website that, "The European Parliament (EP), which represents the citizens of the European Union and plays an important role in the EU policy making process, has a responsibility to ensure that the EU upholds its commitment to promoting human rights and democracy inside and outside of its borders. In order to do this, the EP needs to strengthen its own approach to human rights and democracy issues.
As the 2014 European elections approach, individual candidates hoping to become Members of the European Parliament (MEPs) should pledge to enhance the role of the EP as a global actor on human rights and democracy. The commitments contained in the pledge will help to ensure that human rights and democracy concerns are the foundation on which all EP policies and activities, both internally and externally, are based."
MEPs including Judith Sargentini, Ana Gomes, Leonidas Donskis, Renate Weber, Laszlo Tokes, Barbara Lochbihler, and Richard Howitt have already taken the pledge.
HRDN has also launched a Facebook page on https://www.facebook.com/hrdnetwork  and will be tweeting on the campaign from www.twitter.com/HRDN_EU .
More info:
Visit the campaign website www.stand4humanrights.eu
Download the HRDN press release here
View IDSN's member profile on the HRDN website
News on the 2013 EP resolution on caste discrimination