On 30 September 2023, Probir Sircar, from IDSN's affiliate organisation, Parittran, was invited by UPR Info, to deliver a statement during the pre-session of the Universal Periodic Review (UPR) of Bangladesh in Palais des Nations, Geneva. The event was organised in view of the upcoming Universal Periodic Review of Bangladesh, which will take place on 13 November 2023.
Crucial input on the situation of Dalits to the Universal Periodic Review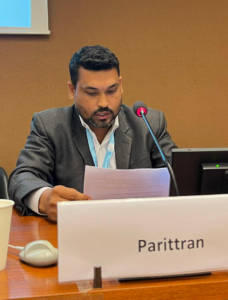 The UPR serves as a mechanism wherein the human rights situation of all UN member States is scrutinised by 47 rotating members of the UN Human Rights Council. The pre-sessions of the UPR, scheduled in the lead-up to the main review, offer non-State stakeholders, including NGOs, a platform to voice their concerns.
NGOs can present their point of view on the human rights situation in countries under review before State representatives.
In March 2023, IDSN, Parittran, Bangladesh Dalit and Excluded Rights Movement, DALIT, and Nagorik Uddyog collaboratively submitted a report to the Universal Periodic Review Secretariat of the UN. This report, based on consultations ongoing since 2018, highlighted the situation of Dalits in Bangladesh.
Probir Sircar: A Landmark Representation
Representing Parittran, a grassroots Dalit organisation based in Khulna, and IDSN, Probir Sircar was first to present at the UPR pre-session for Bangladesh. His statement echoed the concerns highlighted in the report and his observations from his daily work with Dalit rights in Bangladesh. He was the first Dalit from the community to be selected to be on the UPR panel for Bangladesh.
The Present Dalit Reality in Bangladesh
The joint report and statement at the UPR pre-session underlined how each of these issues are of serious concern for the Dalits living in Bangladesh, where caste discrimination predominantly affects the minority Hindu population and has extended to some Muslim communities.
The Dalit population, estimated between 3.5 to 6.5 million, is largely marginalised, disadvantaged and has limited access to crucial resources such as education, employment, healthcare, housing and public services. Dalit women are particularly vulnerable due to the threefold discrimination they face based on caste, gender and economic status. Dalits in Bangladesh continue to live on the fringes of society, often in segregated, unhygienic slum areas with limited access to basic amenities. Their landlessness repeatedly forces them into abject living conditions. Exclusion and discrimination are rampant in many aspects of their lives. They are typically assigned traditionally 'unclean' jobs due to their caste status, or jobs with slavery-like conditions. Their representation in politics is minimal, and they face violence when attempting to exercise their voting rights.
It is imperative that the Government of Bangladesh takes immediate and concrete action to address the development and human rights concerns of the Dalit community.
The challenges ahead
In the previous UPR cycle, several recommendations were made concerning ethnic and religious minorities and the Anti-Discrimination Bill. Regrettably, while some of these recommendations were supported, any recommendation directly addressing Dalits was not accepted by the Bangladesh Government. The lived reality for Dalits since 2018 has not improved, and either stagnated or deteriorated.
Given this backdrop, IDSN, along with its members, appealed to all States participating in Bangladesh's review to emphasise the issues facing Dalits, laying down recommendations to better their conditions.
Following the UPR pre-session, Parittran and IDSN held advocacy meetings with UN and State representatives, spotlighting pivotal issues like the lack of explicit legislation against caste discrimination in Bangladesh, the challenges surrounding political participation for Dalits, gender and caste injustices, business and human rights concerns and the immense difficulties the Dalit population faces in accessing justice.
Takeaways from the session
Following his participation in the UPR pre-session, Sircar concluded that IDSN's facilitation of his participation had yielded important progress and contributed positively to his work.
"The UPR pre-session event has allowed us to garner support from sympathetic governments, international bodies and other stakeholders. At the same time this event has represented a pivotal step in our journey toward achieving our mission and fostering a more just and equitable society in Bangladesh" Sircar said after the event.
IDSN and its members and affiliates in Bangladesh will follow up and monitor the Bangladesh UPR closely and urges States to ensure that questions and recommendations around the situation of Dalits in Bangladesh are raised in the review.
Read the Joint NGO submission related to the review of Bangladesh for the fourth cycle of the Universal Periodic Review 2023 – The Situation of Dalits in Bangladesh >>