A group of Dalit activists met Ms. Navi Pillay to express their gratitude for her unwavering commitment to support them in their struggle to end caste-based discrimination, during her tenure, which ends in August 2014.
The activists met with Ms. Pillay on the 17th of June in Geneva ahead of the UN HRC26 side-event on 'Caste-based violence against women'.
Manjula Pradeep presented Ms. Pillay with a scarf embroidered by a young Dalit woman and Asha Kowtal gives her a framed poster from the Dalti women's self-respect march. Ms. Pillay was also presented with a card by the International Dalit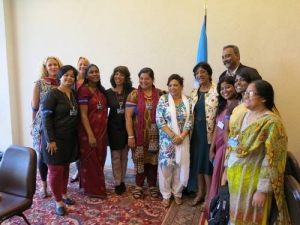 Solidarity Network.
See pictures of the activists with Ms. Pillay here
Text from the card presented to Ms. Pillay:
Dear Ms. Navi Pillay,
We would like to thank you from the bottom of our hearts for your courage and devotion to fighting caste-based discrimination throughout your tenure as UN High Commissioner for Human Rights.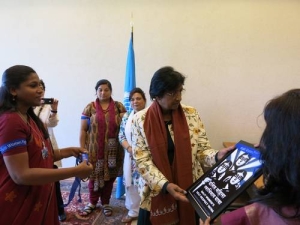 You spoke when others were silent, not once, but on many occasions and with a passion and commitment that has left its mark on the world. 
We would like to thank you for carrying out your work as the UN High Commissioner for Human Rights with the true spirit of a human rights defender, not bowing down to pressure and intimidation and fearlessly pursing justice for all those who suffer from one of the world's most brutal systems of oppression.
At times when the battle to get caste acknowledged at the UN, on par with other forms of discrimination, has seemed an insurmountable challenge, you have lit a torch of hope with your repeated statements of support and calls to UN member states for action. Your words will echo on in our movement long after you leave the OHCHR. 
We hope and believe that the mark you have left on the OHCHR will ensure future strong engagement and high level advocacy of the OHCHR in the fight to end caste-based discrimination.
You have been a true champion for the cause and we hope that you will continue to stand by our side in this struggle for many years to come. 
With the deepest gratitude,
Members of Dalit movements in South Asia and the International Dalit Solidarity Network