Survivors of rape and other forms of sexual assault in India face severe barriers to justice and are not receiving the support that the State are obligated to offer them, finds a new report by Human Rights Watch. The report raises particular concern for 'low caste' survivors and other marginalised groups.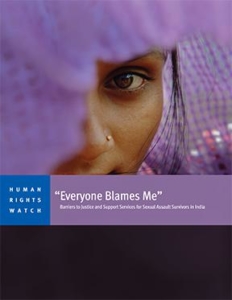 The report details 21 in depth case studies across four states and two cities — Haryana, Uttar Pradesh, Madhya Pradesh, Rajasthan, Delhi and Mumbai. It contains more than 65 interviews with victims, family members, lawyers, human rights activists, doctors, forensic experts, government and police officers, as well as research by Indian organisations.
It highlights several cases where Dalit women or girls have been raped by members of a dominant caste and have been threatened by the perpetrators or police to withdraw their complaints. It also finds that the legislation in place to gain justice for survivors, including the Prevention of Atrocities Act, is not being adequately implemented. It also finds that despite laws to fast track cases delays are commonplace, leaving the victim and their family vulnerable to threats, abuse and pressure.
The findings in the report include poor police response, failure to provide access to adequate health services, lack of access to effective legal assistance and a lack of coordinated support services. The situation is found to be exacerbated when the victim is from a marginalised caste or group. The report also details a pervasive culture of blaming the victim of rape that is seen not only in the general population but also in the police, healthcare system and the judiciary. 
Case example from the report
In several north Indian states such as Haryana, Uttar Pradesh, Punjab, and Rajasthan, unofficial village caste councils, called Khap Panchayats, pressure Dalit or other so-called "low-caste" families not to pursue a criminal case if the accused is from the dominant caste. Local politicians and police are often sympathetic or turn a blind eye to the councils' edicts, implicitly supporting the violence. This is despite the Supreme Court of India describing their actions as "wholly illegal" in April 2011.

Kalpana, 30, a Dalit from Haryana, filed an FIR on March 10, 2015, saying that she was gang-raped by six men belonging to the dominant Jat caste. On March 28, the police filed charges including rape, kidnapping, and assault under the Prevention of Atrocities Act. However, with the trial delayed awaiting forensic results, a frequent problem because of insufficient forensic labs, the family said they began to be harassed and threatened by the Khap Panchayat. Kalpana eventually turned hostile witness in court and all the accused were acquitted. She and her family moved away from the village.
The report also offers a comprehensive set of recommendations on how to tackle and remedy the situation.
"Reporting rape should not contribute to the victim's nightmare," said Meenakshi Ganguly, South Asia director at Human Rights Watch. "It takes time to change mindsets, but the Indian government should ensure medical and legal support as well as counselling to victims and their families, and at the same time do more to sensitise police officers, judicial officials, and medical professionals on the proper handling of sexual violence cases."
Watch the HRW video Rape Victims Face Barriers to Justice
Read the HRW victims report 'They Said My Character Is Bad' How a Rape Survivor Found the Courage to Fight for Justice in India
Remarks by Officials on Sexual Violence – cited in the report
Below are comments by prominent figures—including politicians from various political parties across India; senior police officials; women leaders; and officials from statutory bodies such as women's commissions mandated to protect rights of women—that illustrate how deeply entrenched victim-blaming still is in India when it comes to sexual offenses:

When it [a vehicle] is parked in the garage at home, accidents can be avoided, right?… Similarly, in older times, when women were housewives, they were safe from all kind of atrocities, except discrimination… When they are exposed to the society they are more prone to eve-teasing, harassment, atrocities, rape and kidnap. Is it not? If they do not leave home, it doesn't happen.

–Kodela Shivaprasad, speaker, Andhra Pradesh State Legislative Assembly, Telugu Desam Party, February 2017

They try to copy Westerners, not only in mindset, but even the dressing. Some girls are harassed, these kind[s] of things do happen.

–G. Parameshwara, state home minister from Congress Party, Karnataka state, January 2017

Boys are boys, they make mistakes.

–Mulayam Singh Yadav, chief, Samajwadi Party, Uttar Pradesh state, April 2015

Such incidents [rapes] do not happen deliberately. These kinds of incidents happen accidentally.

–Ramsevak Paikra, home minister from Bharatiya Janata Party, Chhattisgarh state, June 2014

Rapes take place also because of a woman's clothes, her behaviour and her presence at inappropriate places.

–Asha Mirje, Nationalist Congress Party and member of State Women's Commission, Maharashtra state, January 2014
Video: