The #dalitwomenspeakout conference takes place in Pune, India, on the 19-20 December and is aimed at facilitating Dalit women activism and offering a space for solidarity and collaboration between Dalit women. The main aim of the conference is to offer an unmediated space for Dalit women to discuss, learn and form a collective platform to transform their future. The conference is co-organised by the national platform for Dalit women AIDMAM (NCDHR) and the Krantijyoti Savitribai Phule Women's Studies Centre. IDSN will also be represented at the conference. The organisers have launched a website with more information about the conference.
From dalitwomenspeakout.com: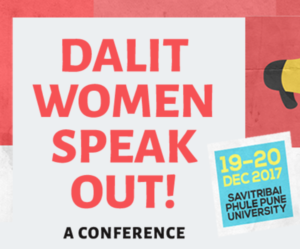 The #dalitwomenspeakout event in Pune, is a two-day conference aimed at bringing in approximately 250 Dalit women activists, professionals, practitioners, students and leaders together. The conference will make an attempt to weave the diversity of our voices towards constructing new approaches to transformative politics.
This two-day conference will open out spaces for critical discussions amongst Dalit women, facilitated by Dalit women.  It will provide a unique opportunity to remain unguarded, reflect on our strengths and weaknesses and collectively build resilient trajectory for the future.
The programme is designed in a way to provide each delegate with a chance to participate, learn new skills and appreciate the true sense of sisterhood within the community collective.
A series of moderated workshops will be held on important topics pertaining to Dalit women. In addition, digital hubs will provide much-needed tech support for women who are navigating internet space for activism. Filmmaking, photography workshops with exhibition space will be created. Relevant film screenings along with discussions with filmmakers will be held. A community self-care hub will provide needed inputs on caring for oneself.
Cultural events, ancestral food stalls, market space for women entrepreneurs etc will add to the joy and celebration of knowing that we are all together in this struggle for social justice!
Follow development on Twitter @dalitwomenfight