UN side-event hears cases of caste-based violence against Dalit women in India where UN and legal experts respond with calls for action. The report 'Voices Against Caste Impunity: Narratives of Dalit Women in India', was also released at the event and an outcome document with recommendations from the event has been produced.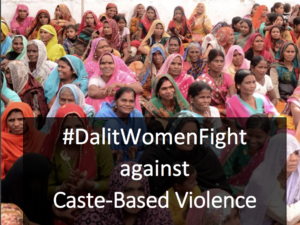 UN human rights officials at the United Nations Human Rights Council side event #DalitWomenFight against Caste-based violence on June 21, 2018, called for immediate efforts to end rampant caste-based violence against women and address a culture of impunity when it comes to crimes against Dalit women, rendering legislation ineffective.
A panel of experts responded to the cases and offered recommendations on ways to take the fight for justice forward in the UN system and beyond. The expert panel included: Ms. Rita Izsák-Ndiaye, Member of the UN CERD Committee; Ms. Dubravka Šimonović, UN Special Rapporteur on Violence against Women;  and Ms. Vrinda Grover, Senior Advocate at the Supreme Court of India.
The report 'Voices Against Caste Impunity: Narratives of Dalit Women in India', launched at the event, compiles witness accounts, statistics and testimonies about the effects of caste-based violence in India, while recommending policy actions to fight it.
Asha Kowtal, General Secretary of the All India Dalit Mahila Adhikar Manch (AIDMAM), gave an introductory presentation at the event of the report and the #dalitwomenfight movement. She also explained the need for international action as national legislation is failing Dalit women.
"Dalit women are now seeking space for dialogue with Indian diplomats, which has been denied thus far," Kowtal said. "Our objective is not to shame the country, but to enable us to collectively find a way to break through this terrible silencing of caste crimes, perhaps the most silenced human rights crisis of our times."
Vrinda Grover, advocate at the Supreme Court of India, commented on the pattern of impunity in cases of caste-based sexual violence observed that "the failure of courts to provide justice to India's most discriminated and vulnerable women compels us to probe the underlying systemic and institutionalised challenges" and called out for stronger actions by civil society as well as UN mechanisms to urgently address these gaps.
The event was held in the Palais des Nations in Geneva and was co-sponsored by Human Rights Watch (HRW), the International Movement Against All Forms of Discrimination and Racism (IMADR), Minority Rights Group (MRG), Anti-Slavery International, FORUM-ASIA and Franciscans International (FI) and supported by The National Campaign on Dalit Human Rights and the International Dalit Solidarity Network (IDSN).
An outcome document summing up the event and key recommendations has been produced.
Recommendations include:
United Nations Mechanisms
While recognizing the positive engagement between our movements and the UN human rights mechanisms, we urge the United Nations to step up their efforts to ensure the participation of Dalit movements and monitor breaches of Dalit women's rights. We call for treaty bodies to build upon the knowledge of intersectionality and strengthen early warning procedures to protect Dalit women from violence. We further encourage the special procedures to strengthen the use of letters of allegation and urgent appeals.
United Nations Member States
We commend the UN Member States which have already engaged with Dalit and Dalit women's movements worldwide and encourage other UN Member States to engage in order to redress instances of institutional discrimination. We strongly recommend that UN Member States strengthen their law, policies and practices, in accordance with the recommendations of the relevant UN human rights bodies and mechanisms, including the Universal Periodic Review (UPR).
Non-Governmental Organisations and Other Social Movements
We praise the solidarity already extended by several non-governmental organisations and social movements to Dalit and Dalit women's organisations worldwide and reiterate our willingness to continue the collaboration with those organisations and movements. We strive for an increased number of Dalit women defenders participating in the international human rights mechanisms and fora and ask partner organisations and movements to continue their solidarity efforts to protect Dalit and Dalit women's movements from interference in this participation.
Press and Social media coverage
The event received good media coverage in India – find some of the clippings here. Ahead of the event a tweetathon was organised on @dalitwomenfight with panellists and other experts responding on the topic of aggravated caste-based violence and impunity in India.
Report

A report from the event was also released by IMADR – please find it here.
Video
#DALITWOMENFIGHT is a short film produced by All India Dalit Mahila Adhikar Manch for advocacy around caste-based sexual violence and the pipeline of impunity from the local police stations, to the higher rungs of the judiciary that dominant caste perpetrators enjoy.