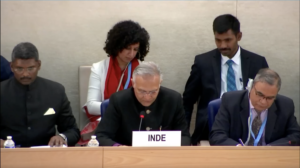 During the 4th cycle of the UN Universal Periodic Review of India, the country received eight direct recommendations on caste, including topics such as racism, water, forced marriage and child labour.
On November 10, 2022 India was reviewed by 193 UN member states through the UPR, a peer review mechanism. Under this mechanism, member states examine a country's human rights record in order to improve the human rights situation on the ground of the State under Review. The outcome report of India was then adopted in the March Session of the UN 52nd Human Rights Council.
Ahead of the review, IDSN submitted a Joint Stakeholder Submission in collaboration with our Dalit Solidarity Network members, DSN Finland and DSN Norway, as well as our International Associates, ARISA and IMADR.
IDSN was able to facilitate participation of two Dalit human rights activists at the UPR India pre-session in August, circulating factsheets on the intersections of caste and sexual violence; hate speech; impunity; gender justice; Economic, social and cultural rights; forced prostitution and slavery in order to raise awareness of key Dalit issues.
At the review in November, India received eight recommendations on caste. Germany recommended that India "Take adequate measures to guarantee and monitor the effective implementation of the Prevention of Atrocities Act and provide legal means for increased protection of vulnerable groups like the Dalit."
Costa Rica recommended that the state "Develop an Action Plan to eliminate all forms of discrimination against Dalits and Adivasis, and prohibit discrimination in the labor market, both public and private". While Cameroon suggested that India "Continue efforts to integrate Scheduled Castes and Tribes into the development process."
Sierra Leone made a general recommendation to raise public awareness about the prohibition of caste-based discrimination, and Ethiopia proposed to Step up efforts to eliminate any type of caste-based discrimination in practice.
Other states raised concerns about the protection of Dalit women and girls, stating that India must "Guarantee the investigation, punishment and effective reparation of cases of violence and sexual abuse against women and girls, especially from [scheduled] castes and disadvantaged tribes" (Mexico); "Continue its efforts to enhance the protection of human rights, especially by eliminating discrimination against women and discrimination based on caste and religion" (Holy See).
The Marshal Islands recommended that India "Address caste-based discrimination against minorities by providing them with equal access to water and sanitation services and resources through implementation of context-specific poverty alleviation programs."
IDSN was pleased to see that all of the above recommendations were supported by India. Out of 339 recommendations, 221 recommendations were accepted and 118 were noted.
Other states made recommendations that were also relevant to Dalit communities on topics of racism (Ghana), water and sanitation (Mali, Morocco, Timor-Leste, Bangladesh, Cambodia), forced marriage (Viet Nam), and child labour (El Salvador, Eswatini, Slovakia, Tunisia).
Dalit human rights defender, Manjula Pradeep, from Equality Now, was able to give a statement during the adoption. You can watch the recording here. She welcomed India's engagement with the UPR and commended the work done on ending violence against Adivasi and Dalit women and girls. However, she highlighted that there has been an increase of rape cases between 2015 and 2020 and noted that many victims and survivors of caste-based discrimination are not able to file their cases with the police. She called upon the Indian government to support recommendations on caste-based discrimination and violence against minority women and girls, and implement a comprehensive strategy to identify barriers to access to justice.
During the adoption of the Outcome Report, the Indian delegation stated that they attached high importance to the UPR as one of the most important human rights mechanisms, and engaged with it in order to better respect their human rights obligations. The delegation also stated that India has established a national mechanism to follow up on all of their human rights reporting obligations. You can find a list of IDSN's live tweets from the event here.