A new study commissioned by the European Parliament's Committee on Development recommends a stronger EU role in the fight against caste discrimination. The study has been well received by Members of the European Parliament.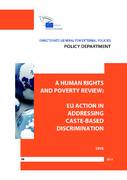 The European Union should do a lot more to combat caste discrimination. This would include integrating measures against caste discrimination into policies, strategies and development programmes that deal with caste-affected countries and addressing the issue in dialogues with those countries.
This is the overall message of a new study, 'A human rights and poverty review: EU action in addressing caste-based discrimination', which was debated by the European Parliament's Committee on Development (DEVE) last week.
The study gives a short presentation of the situation in five different caste-affected countries – Bangladesh, India, Nepal, Pakistan and Yemen – and analyses the EU's actions to combat caste discrimination there. It notes that the country situations vary considerably as do the EU's actions. In some countries, such action is completely lacking, in others, more is being done by the EU, but the overall conclusion is that there is room for improvement everywhere.
The study recommends that references to caste discrimination be included in the most important guidelines for EU human rights policy and that various agreements between the EU and caste-affected countries and other significant documents contain a 'caste-based discrimination clause'.
It also calls for stronger support for projects fighting caste discrimination and for a caste-sensitive approach in humanitarian and development assistance where the specific needs and vulnerability of Dalits are mostly overlooked. It furthermore recommends that human rights training of EU staff in caste-affected countries include caste discrimination issues.
During the DEVE debate on 19 February, the chair of the Committee stated that caste discrimination was one of the most serious and widespread human rights violations in the world and a major cause of poverty.
MEPs underlined the need to raise the profile of the issue and called for an 'own initiative report'. Such a report could lead to a resolution in the European Parliament with specific recommendations for an overall EU policy on caste discrimination.
Click here to download the study
IDSN: Caste discrimination and the EU