Dalits and members of India's other marginalised communities are lagging behind more privileged groups in terms of health and access to healthcare, Oxfam India reports. The gap has been exacerbated during the COVID-19 pandemic.
Indian society is extremely unequal. Decent healthcare is a luxury mainly available to those who can afford it. The poor and marginalised, including Dalits, are much more likely to suffer from ill health than members of dominant castes and are particularly vulnerable to diseases and pandemics such as COVID-19.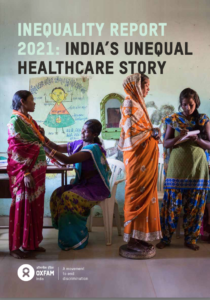 "The rich and the privileged now have at their disposal high-end medical care whereas the poor either incur catastrophic expenditure, depend on a suboptimal public healthcare or worse, stay sick and uncared for," Oxfam India notes in a recent report on "India's Unequal Healthcare Story".
India's health inequalities are, to a considerable extent, a consequence of low government budget allocations to public healthcare. The country only spends about 1.25 percent of its GDP on health, one of the world's lowest percentages. This severely affects marginalised communities, especially Dalits, Adivasis and Muslims. All three groups perform poorly in a number of key areas, including nutrition and female literacy.
The following indicators mentioned in the Oxfam report illustrate the difference between the health situation of Dalits and members of dominant castes.
On average, a woman from a dominant caste lives 15 years longer than a Dalit woman.
Two out of three households in the general category[1] have access to improved, non-shared sanitation facilities, while the percentage for Dalit households is only 37.2.
The literacy rate for women in the general category is 80.9 compared to appr. 62 percent for Dalit women.
Infant mortality rates (IMR) among Dalits are significantly higher than those of more privileged groups. The Dalit IMR is appr. 45 (deaths in 1,000) compared to 32 for the general category.
Sixty percent of India's Dalit children are anemic – compared to a national average of 50 percent.
The number of stunted children in Dalit and Adivasi households are consistently high compared to other castes. The percentage in Dalit households is almost 43 compared to 31 in general category households.
Although average medical expenditure has increased across all social groups in India, significant inequality persists. The expenditure incurred by the general category was 1.7 times higher than that incurred by Dalits in 2017-18, roughly the same as in 2004.
The COVID-19 effect
The COVID-19 pandemic has had disastrous consequences for India. It served as a catalyst for the health focus of this year's Oxfam India Inequality Report, but as the statistics quoted above indicate, the report has gone a lot further in addressing existing structural inequalities in India's healthcare system. Nevertheless, it also pays much attention to the pandemic and its repercussions for marginalised communities.
"The experiences of different groups of people during the COVID-19 pandemic has proven that social and economic inequality leads to inequalities in health and access to healthcare," the report notes while stressing that the pandemic has exacerbated these inequalities even further.
COVID-19 has hit poorer and marginalised communities, including Dalits, particularly hard, as they have often been unable to practice safe distancing or access health facilities in a country that "caters to the rich and the privileged". As numerous other sources have noted, Dalits have continued to be subjected to caste discrimination during the pandemic which has also severely affected the livelihoods of millions of already marginalised people.
Theongoing vaccination drive against COVID-19 lacks inclusivity. Relying heavily on the internet for registration and booking slots, it ignores the country's persistent digital divide. When the pandemic broke out, only 15 percent of rural households had an internet connection. Only 25 percent of Dalits had smartphones, compared to 43 percent of dominant castes.
Marginalised castes have also "faced more issues in accessing non-Covid medical services as compared to the general category and relied more on unsafe sources of water," the report states.
State governments across India that attempt to reduce inequalities have had lower numbers of confirmed COVID-19 cases. Those that spend more funds on healthcare have had higher recovery rates.
The way forward
The report offers a number of policy recommendations on how to reduce inequalities in the Indian healthcare system. These include enacting a fundamental 'right to health' making it compulsory for the Indian state to ensure equal access to affordable healthcare of appropriate quality.
The report also calls upon the Government of India to increase health spending to 2.5 percent of GDP to ensure a more equitable health system in the country. This would include allocating health funds to Dalits that are proportionate to their share of the population. The government should also "ensure equity in access and quality of health services, specifically for the poor and marginalised populations", including Dalits.
"Unless the fundamentals of the healthcare system in India are addressed and inequalities reduced," the report concludes with a reference to the Covid-19 pandemic, "such health emergencies will only aggravate existing inequalities and work as a detriment for the poor and the marginalised."
Inequality Report 2021: India's Unequal Healthcare Story (Oxfam India 2021)
[1] The term 'general category' used in the Oxfam India report denotes castes whose members are on average ahead of other Indians economically and socially. This category is also known as 'forward castes'.