A new report by UN Women finds that a woman's caste in India increases her exposure to mortality because of intersectional discrimination, poor sanitation and inadequate healthcare. The global report Turning promises into action: gender equality in the 2030 Agenda, examines through a gender lens the progress and challenges in the implementation of all the 17 Sustainable Development Goals (SDGs) by 2030.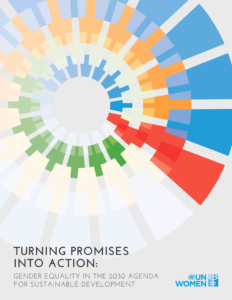 "Those left furthest behind in society are often women and girls who experience multiple forms of disadvantage based on gender and other inequalities… This can lead to clustered deprivations where women and girls may be simultaneously disadvantaged in their access to quality education, decent work, health and well-being," the report states.
The report also outlines how progress for women is a pre-requisite if progress for all is to be achieved and this includes looking at how other forms of discrimination intersect with gender.
"Grounded in the human rights principles of equality and non-discrimination, this commitment [to leave no one behind] recognizes the multiple and intersecting inequalities that so often prevent the full and equal enjoyment of specific groups' rights in practice," it says.
A case in point is caste discrimination and the situation of Dalit women in India. The report points to a shocking disparity in mortality figures with the average Dalit woman dying 14.6 years younger than the average Indian woman in general. Another example that is given is that literacy rates in India for female 'scheduled castes' (Dalits) is lower than the national average at only 57%. The report also states that,
"The likelihood of being poor is greater if she is landless and from a scheduled caste. Her low level of education and status in the social hierarchy will almost guarantee that if she works for pay, it will be under exploitative working conditions."
The report highlights the urgent need to address multiple forms of discrimination leading to clustered deprivations if real progress is to be made to meet the targets of the SDGs.